Perhaps the most frequently asked question that arrives in my inbox is a variation of this:
I'm new to embroidery and don't know where to start. Can you recommend a book or a project for a beginner?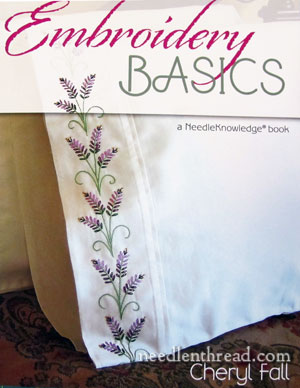 Embroidery Basics by Cheryl Fall is just such a book, with many projects in it suitable for the beginner.
It's also a book that would make an excellent teaching aid for folks who are interested in passing embroidery on to the younger generation. My 12-year-old niece took to the book like the proverbial duck. There are plenty of projects in it that caught her eye and that she can figure out on her own, using the book as a guide.
Embroidery Basics offers all the useful, basic information that is the foundation of embroidery, using supplies and tools that are easily accessible from local shops.
Handy tips fill the first half of the book – tips on choosing threads, transferring designs, handling threads (conquering the pull skein and the pearl cotton twist), choosing the right needle, and so forth.
Essential techniques are covered, too – such as starting and ending threads without knots.
There's a basic stitch dictionary with bold diagrams that cover 42 stitches, including surface embroidery stitches…
…counted stitches…
… and drawn thread stitches.
The second half of the book is devoted to many projects that cover a variety of interests. From lavender pillow cases…
… to bold blossoms worked in chain stitch…
… to a simple framed alphabet sampler (and a matching needle case)…
…to a group of zany redwork pumpkins.. and thirteen other projects (martini cocktail napkins, monograms, a purse decorated with free-style embroidery, several counted thread projects…) – there's something here for everyone!
There's an section at the end of the book on finishing, from blocking to actually make up your projects into their finished forms.
Embroidery Basics is an excellent book for beginners, and if you've been wanting to start embroidering, but just didn't quite know what to start with, I recommend you check this book out! It'll get you stitching in no time, and give you plenty of ideas for projects that will help advance your skills!
Where to Find It
Embroidery Basics is available through the following book affiliates:
In the US, you'll find Embroidery Basics here, through Amazon.