With Easter right around the corner, I think it's a great day for a give-away! And this one reminds me particularly of Spring…
While I was visiting the Deep South a couple weekends ago, a little package arrived from South Africa with a couple of Trish Burr's "supplement" embroidery-related books in it, and today, I'm giving away the pair!
I call them supplementary books, because they are really meant to accompany other books or designs by Trish. Take a look, and you'll see what I mean.
The first is a little book called Traditional Embroidery Colour Schemes. It's a small supplement (available through Trish Burr) that's meant as a supplement to her major work on color in embroidery, Colour Confidence in Embroidery, which I reviewed when it came out.
Even so, the little book can stand on its own, so if you don't have Colour Confidence yet, no worries – this book will get you started on considering and choosing color schemes for hand embroidery.
What Trish has done in this little supplement is take many images of famous works of art and pulled from each of them a color scheme of five major colors.
Then she's expanded the colors to shades and compliments, in DMC floss colors, which she shows on the opposing page. She also provides a small stitched sample, to show how the colors can work together in embroidery.
Then, in the back of the book, she includes the line sketches for the samples in the book, as well as an explanation on how to use color schemes and a page where you can make notes of color schemes used in various projects.
Traditional Embroidery Colour Schemes is not really an embroidery instruction book, but it is instructional, as it will give you exposure to how to select your own color schemes for embroidery. But the nice thing is, if you have trouble selecting color schemes, it'll provide you will many pre-picked color schemes along with their corresponding DMC floss numbers.
The other book in the pair is the little pamphlet titled An Introduction to Miniature Embroidery.
This little booklet takes you through the concept of long and short stitch shading in small places, to create pretty little needle painted vignettes.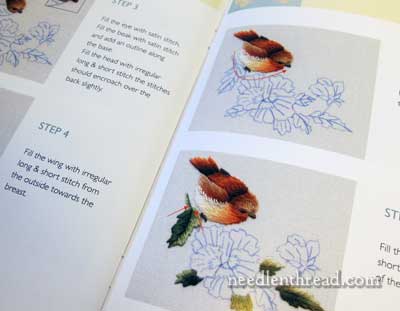 You'll find step-by-step guidance through a project, along with tips to help you improve your needle painting skills. This book is meant as a supplement to Trish's miniature embroidery kits, and it fits in well with her other books on long and short stitch shading.
Give-Away Guidelines
If you'd like a chance to receive this pair of books, please leave a comment below, using the following guidelines:
1. Leave the comment at the end of this article. You may follow this link directly to the comment area. Comments left on other articles or via e-mail are not eligible.
2. In your comment, please answer the following question:
In embroidery, do you find yourself gravitating towards a specific colors and color scheme, and if so, what is it? Or… is there a particular color or color scheme (group of colors) that you tend to avoid, and if so, what is it?
For example, in embroidery, I always find that I gravitate towards shades of reds and golds (with some accent colors, like certain greens) and blues and golds (with accents that generally involve shades of red or green), and I find myself avoiding colors like mauve and very light pinky-purples. I actually have to force myself to think of them as optional colors. And even then, I can't seem to bring myself to use them!
3. Leave your comment before 5:00 AM central daylight time (Kansas, USA), Monday, April 1. On Monday, I'll announce the winner!
4. Please make sure you leave a recognizable name either in the comment form or in the line for the "name" on the comment. For example, if your name is Sue, you might leave your full name, or you might say "Sue is St. Louis" or something like that, to differentiate yourself from other Sues who might leave comments, too. Thanks!
So – go to it! Leave your comment, and tell me all about your color preferences for your embroidery projects!