This is it – my last book review for 2011, and WOW – what a book! Trish Burr's new text, Colour Confidence in Embroidery, is the first of its kind. Sure, there are several color theory books out there that have to do with textiles, but these are generally geared towards fabric, with the exception of a couple color theory books that have to do with color choice in abstract needlepoint and cross stitch design. These latter books rely on technical color theory, adhering rather rigidly to the dictates of the color wheel, and advancing color theories through technical language and hypothetical design scenarios.
Until now, we've yet to see a book on color, focusing on embroidery, that is accessible, instructive, practical, applicable, and beautiful.
Trish has achieved all of the above with her new book, Colour Confidence in Embroidery.
When pondering an embroidery project, if you've ever found yourself asking, "But what colors should I use?" then this is a book you need. (And haven't we all asked that question at some point or another?) It's THE color reference book for hand embroiderers – and it will not go neglected on your bookshelf.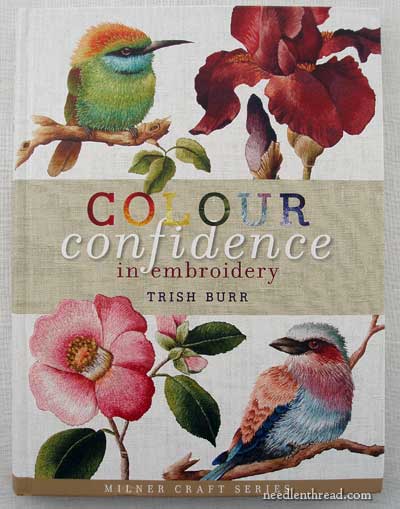 Trish, you see, is a master of color. When looking at her needleplainting, it is the color that amazes the viewer and makes the work really live. And in the book, Trish teaches us how to achieve the same results in our embroidery projects.
The book focuses on needlepainting, but, in practical application, the lessons within can apply to all types of surface embroidery.
After an introduction & discussion of materials and techniques, the book launches into the whole question of color by discussing tools for selecting colors. Definitions of color terminology are clarified. The color wheels is referred to throughout the book, but more often, thread charts are the focus. This is, after all, a book about color in embroidery, so thread charts hold center stage.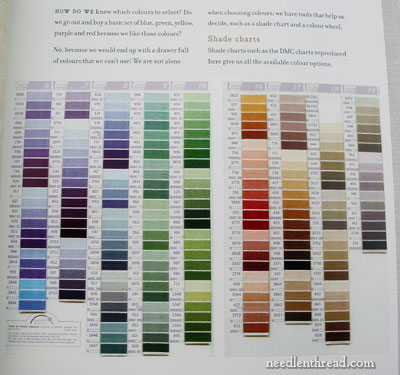 Trish uses DMC thread charts, because DMC is pretty much the universally available embroidery floss. It's nice to have the thread charts printed out for reference. These are images of "real" thread charts – that is, the original thread charts for the images are made with real thread. These images of real thread impart a solid sense of the focus of the book: embroidery.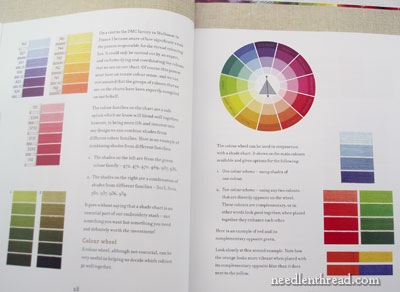 Whenever the color wheel comes up, the thread charts are not far away! Trish explains how the color wheel works and shows how to apply the color wheel to selection of thread colors. She talks about what color families go well together and how color families and shades can be mixed to good effect. She talks about backgrounds, and how background colors affect color choice.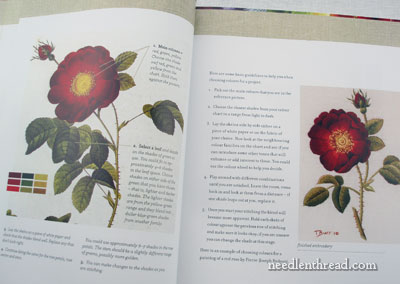 In talking about how to select colors for embroidery, Trish distinguishes between color for images that are already colored (for example, paintings that are reproduced in embroidery) and color for projects that require the selection of a color scheme (for example, for stitching an original design in crewel work). She demonstrates how to isolate colors in an image and build a range of shades around the isolated colors.
In the section focusing on how color affects our embroidery, we see how well-chosen colors and shades make a huge difference in needlework. Shades are an important part of color. With embroidered examples, Trish demonstrates how color changes and shading using a range of shades are more effective than flat colors that don't employ contrast. Later in the book, there's a whole section devoted to the importance of contrast and how to achieve contrast in embroidery. Contrast is what really brings needlework to life, and this section demonstrates that point well.
These various lessons are clearly illustrated with stitched examples in such a way that the reader can grasp the concepts with ease and can apply them with confidence.
Cool colors and warm colors are discussed, as well as degrees of cool and warm colors, and combining cool and warm colors.
This is one of the best parts of the book: Color Combinations! I don't know if this is my favorite part of the book because Trish has already done all the work for us by putting together myriad fantastic color combinations and shades, all numbered out with corresponding DMC thread numbers… or if it's my favorite section because the color is so dazzling. So many color combinations! And all presented in stitched examples with the corresponding thread numbers! This is an amazing and useful (super-useful) section.
There's also an excellent section on choosing complimentary colors, where we learn why certain colors work well together, and again, we see the colors and shades worked out in real embroidered examples.
Trish also supplies pages and pages of different color & design schemes, represented by these rows of color chips. These are schemes that can be adapted to embroidery projects (or really, to any projects that involve the use of color – and what artistic endeavor doesn't?) She demonstrates how a color scheme can be adapted to thread choice. There are lots of fun and beautiful color combinations in this section, perfect for getting the juices flowing when you're ready to think color.
And, finally, we have The Projects! Here, a fantastic selection of Trish's beautiful embroidery projects are presented, broken down by color. There are thirteen projects in the book, twelve of which are representative of a particular color: red, pink, mauve, purple, blue, turquoise, green, gold, yellow, orange, and brown. The last project is the Sacred Kingfisher, a gorgeous bird in blues and golds.
The Little Green Bee-Eater is the project representative of the color green. He is my favorite little guy! I love him. He is so smug.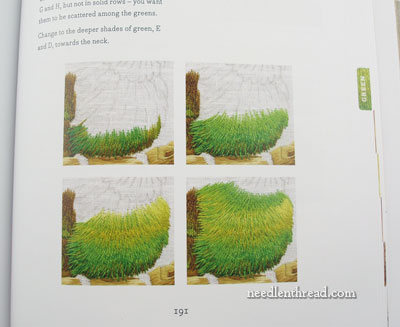 While the book is not meant to be a thoroughly instructive work in needlepainting techniques, the projects are definitely instructional. They are broken down into materials and order of work. The projects assume, though, some understanding of needlepainting, and Trish's book Needle Painting Embroidery: Fresh Ideas for Beginners is the perfect precursor for the projects in Colour Confidence
So that's Trish Burr's new book, Colour Confidence in Embroidery! It's a definite essential for the embroiderer's library.
Pros: Too many to list! The book is easy to understand; the concepts are presented in a way that makes them easy to implement. The book is chockfull of useful information and instruction. The projects are gorgeous.
Cons: The book is a bit pricey, but the book is huge in more ways than one. The subject – color – is a huge one, and it is well dealt with. And the book (hardcover) is huge, too, ticking in at 256 pages.
Where to Find It
You can find Colour Confidence through the following book affiliates:
In the US, you can find Colour Confidence in Embroidery through Amazon.
Worldwide, with free shipping, you can find Colour Confidence in Embroidery through Book Depository.