After Christmas and into 2012, there are some exciting things coming up here on Needle 'n Thread, and I thought I'd give you a little sneak peek at part of the line-up.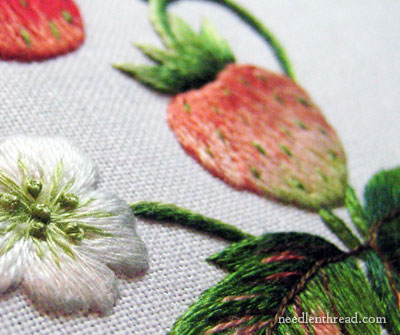 If you're an embroiderer who has a hankering to try needlepainting, or if you already are adept at needlepainting and want to work through a fun and beautiful project, these gorgeous strawberries are going to be the subject of an online class in the spring (a perfect time to start thinking of strawberries!). The class will be taught by Margaret Cobleigh here on Needle 'n Thread. Margaret is a skilled embroiderer and teacher who not only stitches beautifully, but also writes up gorgeous, thorough, and professional instructions. So keep an eye out for more news on this class around March!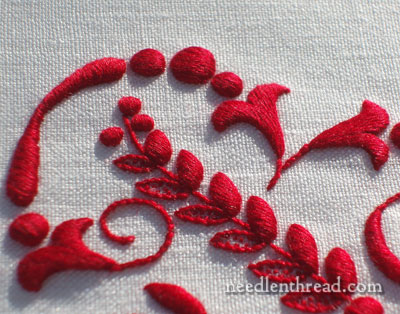 Early in 2012, I'll be teaching a small online class here on Needle 'n Thread in monogramming – just testing the waters to see if anyone's interested! Participants will be provided with a complete kit, including a fine linen glass towel, plenty of floche, needles, hoop, printed monograms – everything you need to complete the project, including written and video instruction. The class will cover everything – from preparing your fabric to binding your embroidery hoop (yes, the twill tape is included) to transfer and stitching, with plenty of particulars on satin stitching and other stitches used to enhance a monogram. If you love monogramming but want a little "intimate" instruction, you're welcome to watch out for this class, too.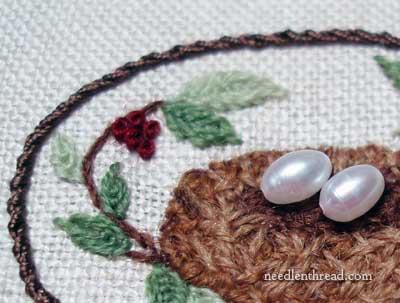 The Nesting Place online class will run once more on Needle 'n Thread, hopefully by the end of January. The date isn't fixed on this yet – it depends on when the supplies arrive in the US. You can read more about this darling needlebook project here. For this class, I am taking names for an advanced notice list, so if you want to be on the advanced notice list and haven't signed up for it yet, feel free to contact me to let me know. Everyone who has contacted me so far has already been added to the list, so if you've already dropped me a line about it, I've got you down! Those on the advanced notice list will receive an e-mail notice before registration is announced on the website.
Why Online Embroidery Classes?
Online classes are a fun and affordable way to explore embroidery techniques. They offer the opportunity of interaction with other embroidery enthusiasts as well as one-on-one contact with an instructor who will help you through any tough spots and provide feedback so that you can improve your needlework skills. One of the best advantages of an online class, considering the general busy-ness of our lives, is that you don't have to take a chunk of time away from work or family obligations to participate in them. Other big advantages: Cost-wise, they are a fraction of the more expensive, "real life" workshops out there – no facility fees and other incidentals to cover, no travel expenses and hotel fees to worry about. You don't have to adhere to a rigid time frame; because they are self-paced, you stitch when you want to and when your time allows it. The online classes on Needle 'n Thread come with full kits, so that everything you need to work the class project is supplied for you. If you've wanted to take needlework classes but haven't been able to cull out the time or fit expensive classes and travel expenses into your budget, keep an eye out in 2012 for these (and a few more!) upcoming classes on Needle 'n Thread.
Let's Talk Christmas
Today, it seems that everywhere you turn, "the 12 days of Christmas" is used as some kind of gimmick. Strangely enough, starting yesterday, we see plenty of "12 Days of Christmas" events popping up everywhere, with some special thing happening each day between now and Christmas. But, if you know your history and you've brushed up on your holiday trivia, you probably realize that these people have it all wrong!
The 12 Days of Christmas are not before Christmas. They don't begin until Christmas and they stretch through January 6th, the Epiphany, the celebration of the arrival of the three magi in Bethlehem. "Twelfth Night" (not Shakespeare's play, but the actual holiday) is the evening before January 6th – an evening of festivities and feasting and merry-making in preparation for January 6th, the day which marked the end of the Christmas celebration.
Today, we pretty much "celebrate Christmas" up to Christmas, with the retail world pounding us into the Christmas spirit from the beginning of November until the shops close on December 24th, when the sales are done and the decorations removed. Boom-o! Christmas is over, and we never even had a chance to relax and enjoy it.
I thought it would be fun this year to do something a little different, and to do it with some semblance of historical accuracy. I'd love it if you would join me in celebrating the 12 Days of Christmas in a fun and festive way!
So here's a little teaser for you. Over the 12 Days of Christmas, I'll be offering you some fantastic give-aways that include some favorite needlework things that I'm pretty sure you'll love, too.
Want some hints? And some blatant disclosures? OK!
What's my favorite needlework magazine? (How about some free subscriptions?) How about tools? Scissors? Laying tools – only dressed up to gorgeous! Do you like silk threads? What do you think of fine linen for hand embroidery? Evertite frames? How about some beautiful needlepainting kits and a DVD for instruction? Goldwork threads? And another type of needlework frame that I've recently fallen in love with? Needlework books? Crewel embroidery designs? Ahhh – so much good stuff, much of which was generously contributed by needlework manufacturers, businesses, designers, and craftsmen (with a few delectables from me thrown in) – all in an effort to join in the spirit of the season and give something back to you!
This all starts the day after Christmas, ending on January 6th, so do join me! It'll be fun!
And the Same Old Stuff, Too!
That's your sneak peek at some Big Things coming up on Needle 'n Thread. But of course, in addition to the above, in 2012 we'll keep the same stuff going on around here that's always going on around here. I'm very excited about all of it – even the "same old stuff" stuff! – and I hope you are, too.
If you have questions, comments, or suggestions, feel free to leave a comment below.
Tomorrow – some of the "same old stuff" (I'll show you a new floor stand) and on Saturday, I'll show you some of the silver on the snowflake and pass that pattern on to you. See you then!