If you take hand embroidery remotely seriously as a hobby, one of the first tools you should invest in is a decent pair of embroidery scissors. Now, please don't get me wrong – I'm not a scissor snob! I realize that a $5 pair of scissors from your local craft store will still cut thread. Still, do indulge me, while I talk a bit and rave a little about good scissors!
There are scissors for embroidery… and then there are Scissors for embroidery!
What are the most basic criteria for embroidery scissors? That they be small and sharp. Beyond that, people have different preferences in scissors: different styles they look for, different price ranges they can afford, and so forth.
I like scissors that reflect quality workmanship, that perform well (the blades fit together, the mechanical opening and closing is smooth and easy), that are comfortable, and that will stand up to the ravages of time and hard work.
I've not spent a real fortune on scissors, though I have collected a few over the years. You can purchase good quality scissors, actually, without spending a fortune. A decent pair of Gingher (made in Germany and very widely available) embroidery scissors run from $15 – $30, depending on the type and where you find them.
I have a total of 6 embroidery scissors, three of which are used for goldwork and three for threads. I also have a pair of sewing shears and a pair of applique scissors, which are handy for cutwork. All except one pair are Gingher – this isn't so much due to preference as it is to affordability and availability. Most of my scissors, I bought on sale at local needlework shops or sewing shops.
However, I don't use them all most of the time! Here's the array of scissors presently inhabiting my tool box. They're all Gingher, except for the greyish pewter looking pair, which I'll talk about in a second.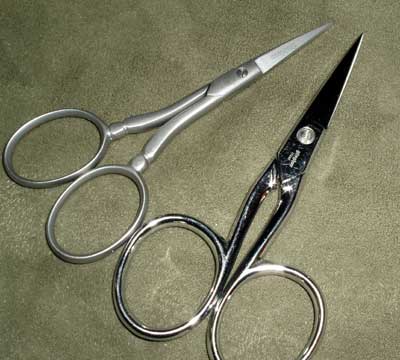 These two scissors are my favorites. Notice that they are both the same size as far as length goes. The shiny pair is by Gingher and the pewter-looking pair is by Dovo. They both have decent-sized finger holes. I've never had big hands (they're more like… paws), but I can't stand forcing my phalanges into small-holed scissors, especially the ones that have decorative nobby lumps all over them!
Of the two scissors, the Dovo scissors are by far my favorite scissors ever! They are finer than the Gingher scissors, they are light and comfortable, sturdy, the movement of the blades is smooth and exact, the tips are perfectly pointed, and the blades are quite thin.
When the two are stacked on top of each other, it's obvious that they are the same length, but notice that the blades on the Dovo scissors are smaller. I always feel as if I have more control with the Dovo scissors and can be more precise, and I think this has to do with the size of the blades. (And it might just be because I'm infatuated with these scissors, so I imagine every good thing about them!)
Here's a close-up on the blades, with the Dovo on the left. If you compare the thickness of the blades, you can see that they are close, but the Dovo scissors are just a bit finer than the Gingher.
Strangely enough, if you take the ever-popular gold-handled stork embroidery scissors by Gingher (among their smallest scissors) – pictured on the left – and compare their blades to the Dovo blades (on the right), you can see that the Dovo blades are significantly finer than the Gingher stork's blades. (My stork scissors have been through it! They need to be sharpened!)
I love Dovo scissors, and this pair especially. They are excellent for small detail work. They're perfect when cutting out stitching (oh, yeah – I do that!). I love them for any kind of work where one or two threads in the fabric must be cut (for drawn thread work, for example), and they're great for cutwork and needle lace.
The Dovo scissors are a bit more expensive than Gingher, though, and hence, I only have one pair! This pair runs around $40 – $45, depending on where you find them.
I'm convinced, though, that if you are going to spend time and effort and money on a hobby, then you should have the right tools. At least one good pair of embroidery scissors is really essential! And they don't have to be Dovo, necessarily! Your budget will most likely dictate your options. But, here's an idea! If you have a birthday coming up, or some other occasion to receive a gift (um…. I wouldn't necessarily want scissors as a Valentine gift or a wedding anniversary present – the message could be wildly misconstrued!), consider dropping a subtle hint for good scissors if you don't already own a pair.
So what's your favorite brand of scissors? Do you have a faithful, favorite pair that you would be loathe to lose? If you were recommending scissors to another stitcher, which would you recommend, and why? Please tell us! C'mon – there's nothing quite as fun as talking about tools!