I've been dabbling around with ideas for my whitework embroidery sampler. Bouncing around in my head for a few days was this rather oxymoronic idea of doing some blackwork whitework.
I just couldn't chase away this idea, and it probably isn't all that original. But this is it: I like the look of blackwork. I love whitework. I was thinking that a band of blackwork (the counted kind) done in white would actually be pretty. You'd think you wouldn't be able to see it, but on the contrary, if it were worked on a very fine linen with a somewhat heavy white thread, the white on white would probably look subtly lace-ish, in a way.
In the long-run, the whole question of whether or not it would work on white became rather moot. I'm working the sampler on natural colored linen, which means I won't be doing whatever type of whitework pops into my head. I'll be limiting it those appropriate to natural colored, even-weave linen. Well – who knows what else may develop?
In the meantime, this is the blackwork whitework pattern I drummed up: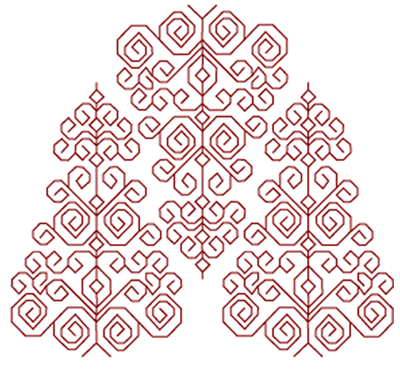 That's it without the graph behind it….
Here it is, with the grid, if you want to print it as a .gif. I don't know how it will turn out, actually – I don't have a printer to test it on right now!
You can take the design and move the individual motifs around, or eliminate the top row, or whatever you want. I'll be duplicating the motifs into a longer row on my sampler.
You can even take each motif and move them closer together.
And, finally, I saved it as a PDF as well, so that you can print a much cleaner copy than the one provided with the .gif file, if you want. When you print the PDF version, you can rotate the piece, shrink it to fit, or print the present view (if you've enlarged it on your screen)… Again, I haven't printed it, so I'm not sure quite how it looks in print, but still… here's the PDF file:
Blackwork Embroidery Design #1 (PDF file – you'll need Adobe Acrobat to read it.)
I'm going to be working this in Holbein stitch, which looks like backstitch from the front, but is actually running stitch worked back on itself. I'll be using a #40 white coton a broder, I think, on an even-weave, natural colored linen (it's either 32 or 36 count linen – I'll let you know when I start playing with the fabric). I may decide on a different thread. I'll also be stitching a border of some sort above and below the design.
I'm hoping (I keep saying this) to get this next project set up today! I plan to spend tomorrow filming new stitches for the Video Library of Hand Embroidery Stitches (if you have a request, leave a comment…)
In the meantime, I hope you enjoy the pattern and can find some use for it!
Looking for inspiration & information on hand embroidery?
There are all kinds of reasons to sign up for the Needle 'n Thread daily newsletter! Check them out and sign up today!