Running Stitch is the most basic hand embroidery stitch. It is simply an "up and down" stitch in the fabric. Even though it's such a basic embroidery stitch, there are many, many things you can do with it!
Running stitch can be used quite effectively in all levels of hand embroidery – don't overlook it as a possibility in even the most complex types of hand embroidery.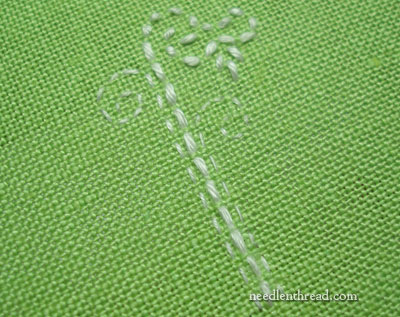 You can vary the look of the running stitch by changing the length of the stitches and the length of the distance between the stitches.
The key to an attractive running stitch is keeping both the stitch length and the interval length consistent across the line of stitching. However, if you're purpose is to intentionally change stitch lengths in order to achieve a certain look, feel free to do so!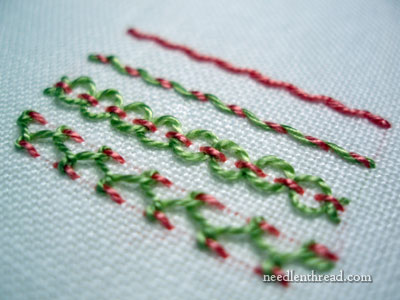 In addition to using the running stitch "as is," the stitch can also be used as a base for other composite stitches.
Whipped and laced running stitches, for examples, are effective embellishments on hand embroidery projects.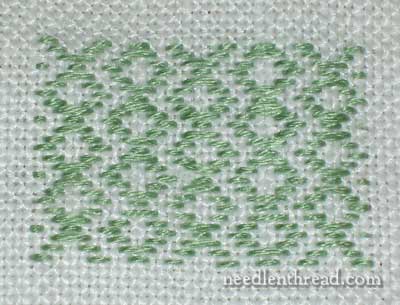 Running stitch is used for an embroidery technique called "pattern darning," where lines of running stitch are worked to form a fill pattern on linen or canvas.
By varying the direction of the running stitches and the spaces between them, all kinds of patterns can develop!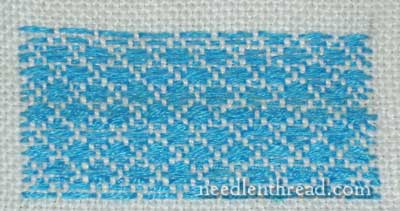 Pattern darning is done easily on even-weave linen or on needlepoint canvas, but it can also be worked on plain weave fabrics (though it's much more difficult to keep the spacing and stitch length even!).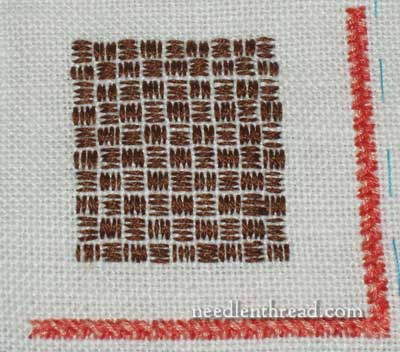 With a little imagination, you can work up all kinds of fill patterns with running stitch. The pattern in the photo above would work great for the roof of an embroidered house, or the sides of an embroidered basket.
So, though running stitch is the most basic stitch, you can see that it has lots of potential!
Here's the video:
Do you want more inspiration & information on hand embroidery?
There are all kinds of reasons to sign up for the Needle 'n Thread daily newsletter! Check them out and sign up today!
If you'd like to learn more embroidery stitches, you can find over 75 how-to videos for hand embroidery here on Needle 'n Thread, along with many other embroidery stitch instructions in this A-Z stitch dictionary, and, for fun, complex, and interesting stitch combinations, check out the Stitch Fun Series, too.
If you like what you see on Needle 'n Thread, if you want to be a part of keeping the website thriving (and free of annoying network advertising), why not become a patron on Patreon? Check out my Patreon page here, where I'll occasionally add special needlework bonuses for patrons.
If you shop on Amazon, you can support Needle 'n Thread without any extra expense to you by visiting my Amazon Recommendations page here, where you'll find books and sundries for the needleworker available on Amazon.