Needle Painting Embroidery: Fresh Ideas for Beginners by Trish Burr is hot off the press – and I think it's definitely a "must have" for any embroidery library. If you're keen to learn needle painting (a.k.a. long & short stitch embroidery, silk shading, thread painting), then Trish Burr is one of the best needle artists to learn it from, and this book is going to be one of your favorite resources for both instructions and projects.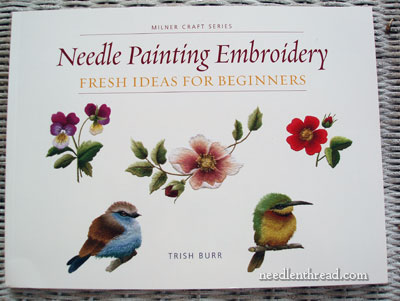 Needle painting embroidery involves realistically shaded designs, with subjects such as flora & fauna, animals, and people. In her new book, Trish addresses the basics and beyond in needle painting, and takes the embroiderer from simple projects to more complex subjects with step-by-step instructions. The book is very simple in layout and approach, making it accessible to every level of stitcher. If you're a beginner and you want to learn to shade a leaf, or if you are an experienced embroiderer who wants to try your hand at stitching a realistic bird, this book will get you there.
As most embroidery books do, this one begins with a discussion of materials to use and how to set up your project for stitching. Again, the approach is simple and straight forward.
There are no hard-to-obtain materials or tools discussed, no difficult set-ups and preparation: everything that you need to work this type of embroidery is easily accessible, and the preparation work is fairly minimal.
Following the question of materials and preparation, there is a short section on finishing your embroidered items (beyond framing).
The instructional part of the book begins with an introduction to long and short stitch shading, in which Trish shows the reader the basic concepts of achieving realistic shading with long and short stitch.
This is followed by a section of practice motifs. Here, the reader is taken through common shapes and elements used in needle painting, one at a time, step-by-step, in order to become comfortable with the whole process of shaded stitchery.
Some of the elements within this section of practice motifs could stand on their own as pretty little projects. Numerous elements are covered in the practice section: the leaf, the petal, the turn-over on the petal, the curved shape, the berry, the fluffy feathers on a bird, the bird's eye. Each part of this section serves as an individual lesson, bringing the stitcher ever closer to excellence in needle painting.
Next up is a stitch dictionary that addresses all the stitches that may commonly be found in needle painting, other than long and short stitch.
The projects in the book are divided by degree of difficulty. Level One projects are for beginners….
Level Two projects take the stitcher beyond beginner level….
…. and Level Three projects (this is where you find those adorable birds!) are for those who have had a bit of experience in needle painting.
There are a number of projects in each category: 6 in level one, 5 in level two, and 4 in level three.
The projects all unfold in the same sequence. First, we get the overall necessary information: materials & preparation, thread list, and a diagram for tracing and one for stitch direction.
This is followed by the method of working the project. Trish takes the reader through each project in the order of working, with photos to assist along the way. There are little notes in the side margins, that point out little tricks to getting that perfect shaded look.
Each smaller element in each project has its own little section, with photos, a thread key, and stitching instructions.
The photos of the smaller elements within the project give a partially completed view of the element, and a completed view – up close, so that you can see what your stitch placement and direction should look like.
Every project in the book is mapped out this way, making it so easy for the stitcher to follow through each project successfully.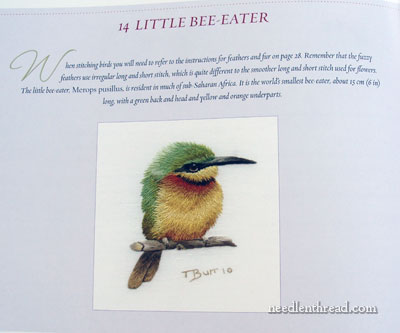 The book ends with the Level Three projects……. included in which is the Little Bee-Eater.
I just love this little guy.
What do I especially like about Needle Painting Embroidery: Fresh Ideas for Beginners? I like its clarity and simplicity of approach. There's not a lot of complicated information in here. You won't find complicated and hard-to-acquire materials (all the projects are listed with DMC thread numbers). The book has a very open layout, and is easy to read and easy to follow. Each project is presented clearly and simply.
Yep, if you're looking to venture into needle painting, or have already ventured and want to explore further, this is a book you want on your shelf! It's what I expected it would be – another of Trish's excellent instructional books!
Where to Find It
You can find Needle Painting Embroidery through the following book affiliates:
In the US, Needle Painting Embroidery is available here, through Amazon.
For stitchers outside the US, you can find Needle Painting Embroidery: Fresh Ideas for Beginners available through the Book Depository (with free world-wide shipping).