Earlier this week, I was delighted to see some new surface embroidery kits available here in the US. It's difficult to find commercial surface embroidery kits that employ lots of different stitches – kits that are colorful, fun, and tasteful, so this collection is exciting!
Kits like these are a wonderful way for beginners to learn a myriad of stitches and to see how to employ different stitches in a design.
They're also an excellent way for more advanced embroiderers to enjoy a relaxing, fun project, and to revive an interest in using multiple embroidery stitches in one project. Often, we get stuck in a rut, using the same stitches over and over again, so a fun project that employs more than three or four stitches is a great way to perk up the old stitch repertoire.
There are seven new surface embroidery kits available at The French Needle. Lisa has been expanding options for stitchers interested in surface embroidery, and these are my favorite additions to her collection of available kits!
The design above works up into a 9″ x 9″ square, though most of the designs are quite a bit smaller than that.
The kit itself comes with the linen, pre-printed with the design, plus stitch instructions (in English) and a thread list. You can also order the specialty thread pack for each kit (which includes threads by House of Embroidery). The thread packs do not come with any of the required DMC floss, which stitchers can buy locally.
Or, you can just order the kit (pre-printed linen and instructions), and use the list of suggested DMC threads.
The pieces involve all kinds of flowers and foliage (and this one, a rooster, too!).
Some involve more stitches than others. This embroidery design – titled Mille Fleurs – is my favorite of the seven kits. It involves some 13 stitches in a 2.5 x 5″ design. The specialty thread pack that can be purchased alongside it (not including DMC) has 24 colors in it. Lots of color, lots of stitches!
Because most of the designs are small, the projects are quite manageable, time-wise. This is another 2.5″ x 5″ design, printed on 8″ x 10.5″ linen.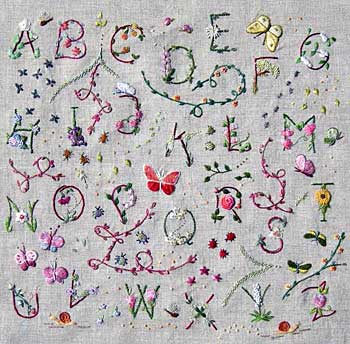 This flowered alphabet kit is 12″ x 12″ square, and includes 16 different stitches. The specialty thread pack includes 31 colors.
So, if you're on the hunt for a surface embroidery kit that will help you learn a variety of stitches, that works up into a pretty, flowery design (perfect for Spring!), check out the new Canevas Folies surface embroidery kits at The French Needle! They look fun, don't they?