Mondays! We all love them, don't we?!
To get the week off to a good start, let's have a give-away! Today, thanks to Lorraine at LES Designs, whose thread I featured last week in this article on overdyed embroidery threads, I'm giving away some very colorful skeins of thread!
Better yet, when it comes to the prize, it's Winner's Choice – so read on for more details on how the give-away works.
For this thread give-away, the prize is 5 full skeins of beautifully colored, overdyed embroidery thread from LES Designs. The winner will get to select the skeins you want, so that you get the colors you want, rather than whatever colors and thread sizes happen to be mixed in a sampler pack.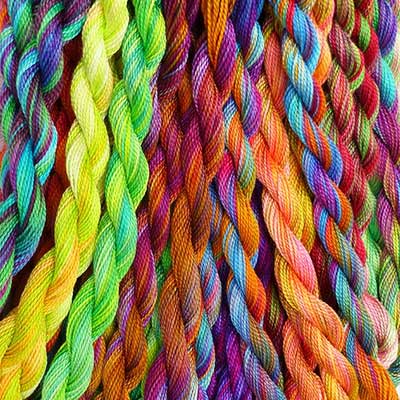 Lorraine dyes a number of different sizes of embroidery threads, so you can select your choice from among the different types of threads, too. Any combination of five full skeins works – it's kind of like a mini stash-shopping spree!
To join the give-away, though, there are (as usual) some guidelines you have to follow, to keep things organized.
Give-Away Guidelines
1. To enter the give-away, you must leave a comment on this article, on the Needle 'n Thread website. If you're not sure how to get to the comment section on this article, just follow this link and it will take you directly there. Comments left on other articles on Needle 'n Thread or sent via email are not eligible for the drawing.
This give-away has ended. Thanks for participating!
2. In your comment, answer the following:
Of all the threads that LES Designs produces, which one grabs your attention most and why? Is it the color scheme that attracts you, the type of thread, the fact that it's over dyed? (If you're unsure of the threads available at LES Designs, you can pop over to Lorraine's shop and take a look) If you win, what do you plan to do with the thread?
3. Make sure that you leave a recognizable name either in the "name" line on the comment form or in the comment box. For example, if your name is Alice, please make sure that you qualify which Alice you are. Something like "Alice in Albuquerque" or Alice W. would work. This helps eliminate confusion when the winner is announced. Thanks!
4. Submit your comment before Saturday, August 17th at 5:00 am CDT (Kansas, USA). I'll announce the winner on Saturday morning some time.
The winner will be selected randomly from among the entries that comply with the guidelines above.
Anyone, anywhere may enter the drawing.
When the winner is announced, the winner must contact me with a shipping address and an email address, and I will forward that information on to LES Designs. The threads selected by the winner will be shipped directly from LES Designs.
So there it is! If you're keen to add a splash of overdyed color to your thread stash, do join in!
And have a swell Monday!