During the whole Restoration Process of my data from the old computer to the new, I've had a good bit of fun discovering misplaced photos of past embroidery projects that, over time, have slipped my mind.
It's not that I don't remember the projects; it's just that, when I come across the photos of them, there's a kind of new delight in seeing them again, because I haven't thought about them in so long. And in looking at them again, some valuable lessons come to mind.
This is one of the reasons that I normally encourage new stitchers to take photos of their embroidery projects, regardless of your age, your skill level, or the type of project it is. Whether you have a blog or not, even if you think you'll never have any interest in seeing photos of the projects you've worked, you'd be surprised what they can teach you, or what new ideas they will generate, when you look back at them after some time has passed.
Here are some Pictures from the Past and a little chat about some of the lessons I've recalled, or ideas that have occurred to me, since coming across them.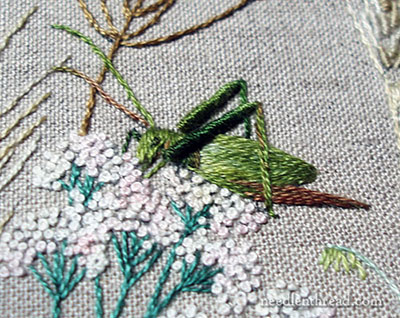 This little embroidered grasshopper is perched on a cluster of flowers featured on the project titled Breath of Spring, from Inspirations Magazine issue 56.
This photo reminds me of how much fun I had working this particular project. What attracted me to it – besides all the critters crawling and fluttering hither and thither all over it – was the enormous amount of variety on the piece. So many different stitches! So many different elements to embroider! There was never a boring moment when working this project!
This project – mixed a little with ideas generated while working this mini Cluny tapestry design – prompted the development of an embroidery project that's been brewing for several years. And seeing the Breath of Spring project again has encouraged me to ferret out that previous idea and develop it further.
The Golden Pomegranate – designed by Margaret Cobleigh (also, incidentally, featured in an issue of Inspirations Magazine – #61 – though I stitched it before it was published there) – was an absolute favorite among any goldwork and silk projects I'd ever worked. It confirmed my love of goldwork.
Unlike advanced embroidery projects that can require super concentrated effort (and in that regard, somewhat diminish the pleasure of the stitching), working on this project was thoroughly enjoyable.
I remember thinking that all embroidery projects should be this satisfying. And when concocting my own projects since then, I always remind myself that there must be a sense of real enjoyment and satisfaction in each project, or it isn't really worth doing.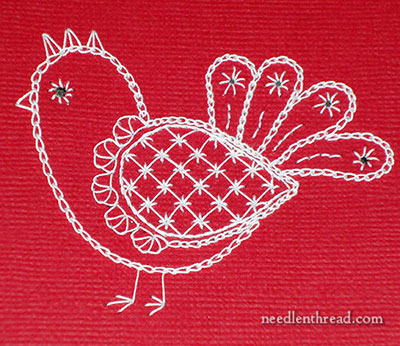 Every time I see this Schwalm-like Chicken embroidered on paper, I chuckle!
It's not meant to be a Work of Art. It was just something I did for fun, to see if I could actually do it and produce a passable result. Using chain stitch, a lattice filling, straight stitches, and backstitch, I worked this little chick on red card stock. The bird is a design from Christine Bishop's book, Schwalm Embroidery.
You know what? It's ok to do something unconventional with an embroidery design or idea. The chicken was meant to be Schwalm whitework – worked in white thread on white fabric, with stitches typical of Schwalm embroidery. But it's ok that it ended up on red card stock.
This particular piece – just a simple flour sack towel embroidered with simple stitches – ended up being pretty special. It inspired some of the design elements that were used to create the look of my website. You can find hints of it in the header. So you never know where a seemingly-mundane embroidery project will lead!
Thank You!
So that was a little trip down Memory Lane.
This summer, Needle 'n Thread celebrated its 7th birthday. Lots of things have changed on the site over the seven years… lots of projects developed and finished (and some not finished!).
I've learned heaps of stuff and I've enjoyed every minute of it, and most especially because of you! You are the ones who make Needle 'n Thread worthwhile and make embroidery really fun!
It's such a pleasure to be able to share this love of needlework with such a fine group of stitchy folks! So, thank you, thank you for all your interaction, support, encouragement, advice, questions, discussions, comments…. thank you for hanging out with me on Needle 'n Thread!