This morning, I was going to write a long, deep article about overdyed embroidered threads.
But two things are against me: one is the ongoing computer kerfuffle, which is slowly being solved, but when I say slowly, I mean slooooowly. And the other is a large impending thunderstorm, which could very well mean a loss of internet connection.
So instead of an all-out article on the subject over overdyed embroidery threads at this point, I'm going to poll the audience for opinions today, and save the in-depth stuff for a little farther down the road.
Overdyed embroidery threads are pretty much what the name says they are: they are threads that have been dyed with different colors, with the colors applied over each other, so that the colors kind of blend and meld together, but also, in places, retain their own color.
Overdyed threads aren't to be confused with variegated threads (though, semantically, they are variegated in color) or space-dyed threads, or shadow-dyed threads, all of which have slightly different characteristics.
Gosh, who ever knew there were so many ways of dying thread?!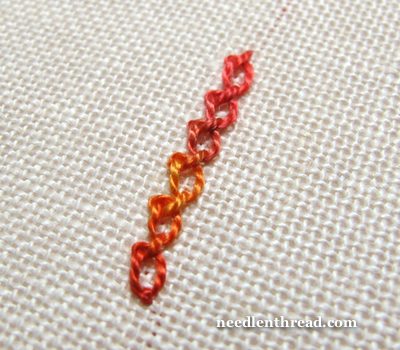 The most obvious characteristic (to me, anyway) of the overdyed thread is that it is uneven in the color layout. The varying colors in variegated threads are normally evenly spaced, but in overdyed threads – which are dyed by hand – the areas of color are much more random in length, intensity, and placement. And this can lead to some interesting effects in the finished embroidery.
The overdyed threads shown here are DMC perle cottons in sizes 5, 8, and 12, hand dyed by Lorraine Stobie of LES Designs on Etsy.
Lorraine's shop offers some fantastic examples of overdyed cottons, using DMC perle cotton as the base thread and then, oh! The colors she adds! They're vibrant, they're fun – and the threads are nice to stitch with. If you like working with overdyed threads on your projects, check out her selection of threads. You're sure to find something that will entice you!
Your Take on Overdyed Threads?
Later on, we're going to chat a little more in-depth about overdyed threads, but before we do, I'd love to hear your opinion about them. Do you like them? Why or why not? Do you work with them often? What type of needlework do you do with them? Have you experienced any drawbacks when working with them? Have you ever dyed your own? What's your favorite overdyed thread to use?
In short, what are your thoughts on overdyed threads? I'm … uh …. dying to hear them! (Sorry.) Please, join in the conversation below!
And later on, along with a chat, we're also going to have a little give-away of some overdyed threads, so keep an eye out for that!