Well, since we've been talking about embroidered monograms lately, this is a very timely announcement!
For those of you who will be in the north eastern US this autumn, and who are interested in a face-to-face class in traditional monogramming, you're in luck…
In mid-October of this year, Susan O'Connor of Country Bumpkin will be teaching a class in traditional monogramming techniques in Beacon, New York.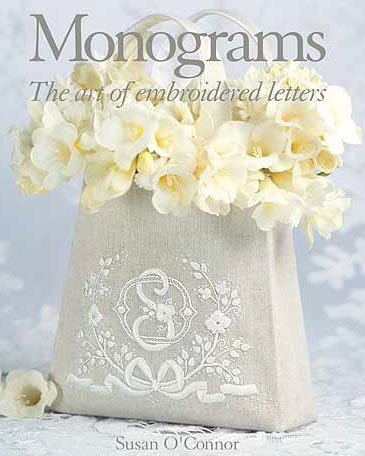 Susan is the author of the book Monograms: The Art of Embroidered Letters published by Country Bumpkin some years ago.
Monograms is beautiful book, typical of Country Bumpkin Publications. It's also an excellent instructional book for anyone wanting to learn the art of traditional monogram techniques. Unfortunately, right now, it is out of print and very hard to come by, but rumor has it that Country Bumpkin is looking into a reprint! So glad to hear it!
In the meantime, though, if you want some good personal instruction in monogramming, you can always go to New York in the autumn. It's a beautiful area of the country, and a perfect time of the year to be there.
In addition to the monogramming class, there's a stumpwork class on offer during the same weekend, also taught by Susan.
And for those interested in delving into wool embroidery, there's a class available for you, too!
Three days of classes over an autumn weekend… what could be more fun?
The classes take place October 18, 19, and 20 at the Howland Cultural Center in Beacon. You can find further details about the classes, including information on tuition fees, kit costs, and accommodations, on the Country Bumpkin website under Events.