Why do Monday's always get a bad rap? I love Mondays! They're the start of a whole brand-spankin' new week – hopefully, a week in which I can correct all the mistakes I made last week, and get all the things done I didn't get done last week. I always view them as a mini-start-over.
So, to celebrate another glorious Monday, let's have a give-away, shall we?
Following up on Friday's review of the green color assortment collection of Silk Gimp, today, I'm giving away a green assortment pack to two lucky winners, courtesy of Access Commodities.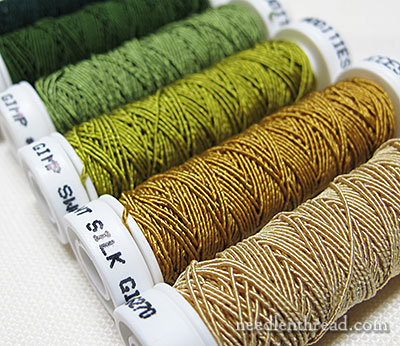 Each thread assortment comes with six shades, from a very dark green to a light goldish-tan appropriately named Gingerline.
Each of the six spools is wound with 10 meters of silk gimp. The thread is perfect for adding a little bit of dimension and a unique touch to any fine embroidery project.
Give-Away Guidelines
This give-away is ended – thanks for participating!
If you'd like to join in on the give-away, please follow these guidelines:
1. Leave a comment on today's give-away article (not on any other article and not via email). Just follow this link to arrive at the correct comment area.
2. In your comment, please answer the following:
Why type of project do you envision for silk gimp, if you win the thread pack? Or, if you haven't envisioned a project yet, that's ok! Maybe you could tell us what it is about the silk gimp that attracts you to it?
3. Please make sure you leave a recognizable name with your comment, either in the "name" line on the form or at the end of your comment. If you have a name like Kathy, for example, please add something that will differentiate you from other Kathys out there. It helps to minimize confusion when the winners are announced.
4. Comments must be left by Saturday, September 28th, 5:00 am CDT (Kansas, USA). Winners will be announced on Saturday, and will need to contact me with a mailing address.
Anyone, anywhere may join!
Three cheers for Monday! Hope yours is a grand one!