One of my favorite gifts for giving this year and for receiving (I received two copies of it myself, both of which I'll put to good use) is not an embroidery book.
Or is it?
It depends on how you look at it.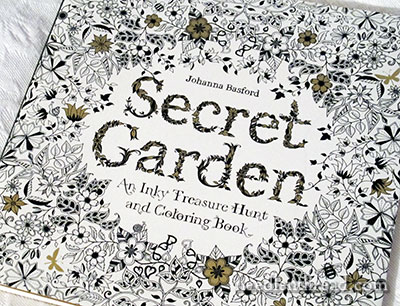 Secret Garden: an Inky Treasure Hunt and Coloring Book by Johanna Basford is a fun gift to give to the creative people in your life.
This Christmas, for me, it proved to be a popular gift for the nieces who are no longer "little kids," who like to color, doodle and draw. A copy of the book each, and a package of decent markers with a small collection of different sized drawing pens to share – the perfect gift to incite creativity and to promote a little bit of quiet and calm.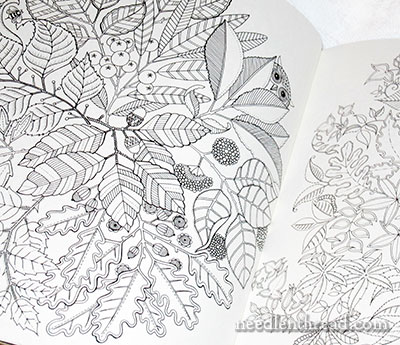 The principle of the book is this: it is filled with an abundance of pen and ink garden-related doodles and drawings, with little garden creatures & things (think: animals, bugs, butterflies, acorns and the like) speckled throughout the drawings.
The drawings are meant to be colored, but on many of the pages, white space is left to finish the doodles your own way, or to "grow" the drawings. As you color or draw in the book, you come across little hidden, not-so-obvious creatures nestled here and there among the leaves.
But let's talk embroidery here!
When I first saw Johanna's clever, charming book, I admit that coloring with ink was not really on my mind. A different type of coloring occurred to me – coloring with thread. The possibilities for embroidery in the book are myriad and wonderful! Oh yes, oh yes! That's what caught my eye first!
And so, I did what any embroiderer-gone-blogger would do: I contacted the author.
Johanna Basford is a Scottish artist whose background is (not surprisingly) textile-related, and you can see the influence of this background in her drawings in the book. Maybe that's why they immediately grabbed me as perfect for interpretation in embroidery?
Johanna (and her publisher) graciously gave me permission to tackle a particular design in the book as an embroidery project that I'll work through step-by-step here on Needle 'n Thread in the upcoming year.
For those who requested more beginner tips, where-to-start information on embroidery, and even for those who are more advanced in embroidery, this will be a fun project! I'm so excited about it!
The only catch is – of course – that I won't be providing a pattern. If you want to follow along with the project in 2014, you'll have to purchase the book yourself, which is only fair.
Besides the design I'll be using in the book, you'll find so many other drawings that you could translate into your own embroideries as well – you aren't limited to just the design I'm going to work on. You don't need the permission of the author & publisher to create a personal piece of embroidery from the book. If you are going to do it publicly, though, it is always best to get permission as a courtesy, if nothing else.
It will be a while before I actually get into the project – must tie up loose ends first. But I couldn't help sharing the book with you now, in case you like it, too. And even if you never stitch a thing from it, it's just a fun little book!
Besides, who ever said coloring is just for kids?
Where to Find Secret Garden: An Inky Treasure Hunt & Coloring Book
You can find Secret Garden through the following book affiliates:
In the US, Secret Garden is available here through Amazon.
Worldwide with free shipping, Secret Garden is available here through Book Depository.