Over at Internet Archive, there's a lovely old catalog that fans of monograms will want to download and enjoy!
The catalog includes some really nice alphabets and monogram devices, along with some other embroidery patterns.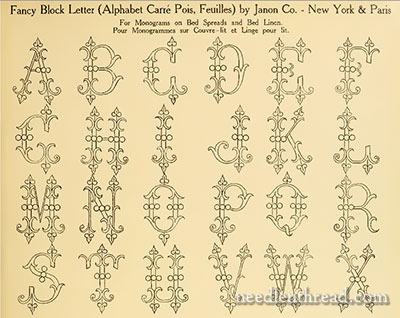 Many of the alphabets presented range from very small and tiny to a little bit larger, and few of the alphabets are completely represented (that is, not all the letters are necessarily there – as is normal with these old collections). At the end of each page of alphabets, you'll find larger samples of the letters.
If you view or download the Janon Company Monogram Catalog in PDF format, you can zoom in on the letters and get a fairly clear image of the various letters in the various alphabets. It's a nice resource for a variety of alphabets!
In addition to the alphabets, you'll find lots of patterns for decorative devices for monograms. These are the "frames" that are often found around fancy monograms, and there's a whole variety of them in the catalog!
Lovely things!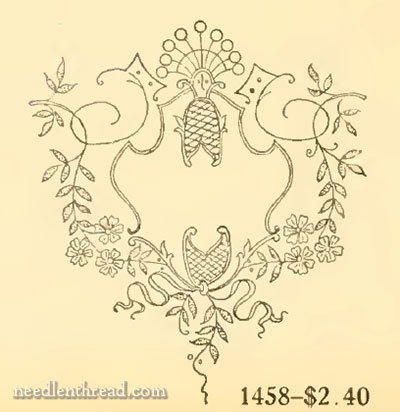 Here's one a little closer up.
This is not a pattern catalog, by the way, where an embroiderer would order actual patterns. Rather, it's a catalog for the customer to choose embroidery designs that the company would then execute.
Why am I sure of this? A $2.40 price tag for just a pattern alone, from a catalog that's clearly early 1900's or earlier doesn't make sense. Keep in mind that the average wage in the US was 22 cents an hour in 1910. Embroidery patterns would definitely not have been priced at about 10 hours of labor for the average person! That would be like the minimum wage earner of today paying around $75 for one embroidery design.
There's also a nice section of Grand Fancy Designs. These are for intricate, interlocking monograms, like this one:
At the end of the catalog, there are some individual non-monogram-related designs, including church embroidery designs.
So hurry on over the Internet Archive and browse through the book to see if there's anything there that inspires you! You can also open the PDF here and save it to your own computer for future reference, too.
Hope you enjoy it!