It's a snowy cold day here in Kansas – a perfect day for staying home, stitching, drinking plenty of hot tea, and dreaming of spring and flowers and sunshine and blue skies!
If you're feeling the winter blues, or if you're sweltering under a hot summer sun, Stumpwork Flowers by Sachiko Morimoto is the perfect book for evoking all the sweetness and freshness of spring.
It's a lovely book! It's simple and elegant. It's instructive. And it makes stumpwork – that sometimes-complicated-looking, three dimensional embroidery – manageable.
If you're a beginner who aspires to learning stumpwork, or if you're an expert who wants a simple, fresh approach, methinks you will love this book!
Stumpwork Flowers by Sachiko Morimoto will charm you with its simplicity. I'll admit it, I was attracted to the book by its cover.
I know, I know! Never judge a book by its cover! But I'm human, and I tend to. If an embroidery book has an ugly cover, I can't help thinking that something is amiss within it. The cover being the first impression a person has of a book, of course some discernment on the part of the buyer is going to take place when confronted with it.
Morimoto's cover, right off the bat, grabbed me. It spoke to me. It said, "Hello, Intrigued Person. I am a book full of elegant simplicity and clarity, and you will like me."
And I responded. I said, "You are correct, Beautiful Book. I already like you. I am willing to love you, if all that is promised on your outside is fulfilled on your inside."
And it was. And our relationship has grown from there.
Beauty. Clarity. Simplicity. That's the book in a nutshell.
Stumpwork Flowers is arranged in two parts. Part one is a gallery of the stumpwork flowers featured in the book, along with various ways the embroidery can be finished into made things. There are 27 flower-related projects featured in the book.
The gallery is exactly that – a picture gallery of the projects. But the pictures are pristinely clear. The flower designs are simple and straightforward.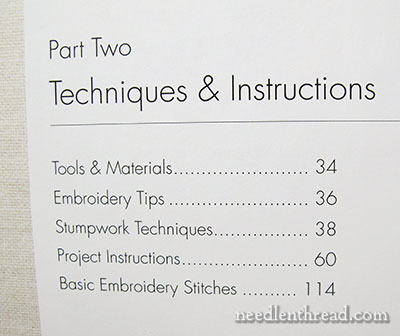 Part two of the book covers Techniques & Instructions. Here, you'll find the instructional nitty gritty.
The instructional part is arranged in a way that makes good sense. After you've seen the projects and what you can do with stumpwork, you then see what materials are required, you learn general embroidery information that will make the job easier, you are introduced to the stumpwork techniques involved, and then each project is broken down into its various parts, with materials list, stitch guide, pattern, and so forth. At the end of this section, there's a nice stitch dictionary of basic embroidery stitches for reference.
The flower designs in the book are all "minimalist" in a way. There's no elaborate, complex, "major embroidery project" design here. These are not projects that will take you months (or even weeks) to work. Instead, each little flower could be worked in a weekend, easily, making them manageable projects for learning, for pleasure stitching, for gift giving, whatever you want to use them for.
And my goodness, the flowers just jump off the page! They look so real. The models are beautifully stitched, not a flaw to be found! And they're shown in absolutely crisp detail.
Morimoto also demonstrates what can be done with some of the embroidery projects. These chili peppers, for example, translate well into decorative table linens.
And the chamomile adds a beautiful touch to a simple embroidered pouch.
In the instructional section of the book, you'll find thorough information on the materials required for stumpwork. The author relies solely on DMC stranded cotton for the projects in the book, so all the materials are pretty easy to come by!
The stitching instructions come in the form of step-by-step photos with accompanying text – clarity, indeed! The photos are great, and the written instruction is easy to follow.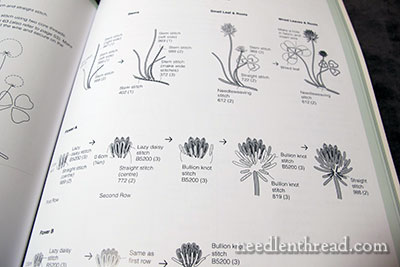 Each project is broken down into its parts, in the order in which they should be stitched. The stitches, techniques, and thread color numbers for each flower are all mapped out clearly.
She also gives little close-ups of stitched samples for further clarification throughout the instructional parts.
I love the little close-ups!
There are many, many good things I could say about this book – the instructions are clear and concise and easy to follow. The projects are so pretty. But I'll tell you what ties it all together so well. The book is beautifully photographed. And the beauty of the photography is really evident because the elements photographed are so very simple.
Pros? All of the above.
Cons? None that I can think of, unless you just don't like stumpwork!
If you've wanted to learn stumpwork, or you just want a simple approach to stumpwork embroidery, this is one of those books that you'll want on your shelf. I have a lot of books on stumpwork. I think this is the best instructional book that I own on the topic.
Where Can You Find It?
You can find Stumpwork Flowers through the following book affiliates:
In the US, you can find Stumpwork Flowers through Amazon.
Worldwide, try Book Depository, where Stumpwork Flowers is available with free shipping.