Hedebo embroidery is a type of whitework originating in Denmark, perhaps as early as the 15th century (according to Flora Klickmann in The Cult of the Needle).
Hedebo is unique style of whitework, in that it involves seven distinct types of stitched elements in its composition, each type being added to the general make up of Hedebo over time as Hedebo developed and evolved. What began as stylized, rather stiff geometric drawn thread embroidery eventually evolved in the early 1800's to a freer type of openwork ornamented with satin stitch, cutwork, and needle lace.
Today, we associate Hedebo mostly with cutwork and needlelace, as these make up a recognizable part of most Hedebo embroidery.
Guida al Ricamo Hedebo, or Guide to Hedebo Embroidery, by Laura Marzorati and Stefania Bressan, is an excellent beginner's guide to the basics (and beyond!) of Hedebo. Here's a closer look at the book.
You might have noticed from the title that Ricamo Hedebo is an Italian book. And it's true that the text is in Italian, but the book is so loaded with visuals in the form of diagrams and photos, that the techniques are easy to understand without a working knowledge of Italian.
Scattered throughout the book, you'll find many beautiful examples of Hedebo embroidery, stitched. I love the fact that the pieces were photographed against a blue background! It makes the whitework super white and clearly visible and the elements easy to discern.
At the beginning of the book, you'll find a section on materials required for Hedebo. Referring to the photo, the requirements are pretty simple and fairly standard. There is one unique tool (a Hedebo gauge) used for some elements in Hedebo embroidery – I'll show you one up close a little later – but it isn't absolutely essential.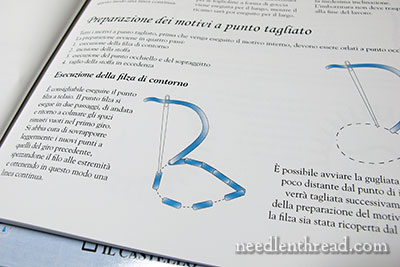 Then we get into the instructions on the basic stitches required in Hedebo, and you can see that the diagrams here, though simple, are very clear.
Every movement of all the required stitch elements are diagramed, so there's no guessing.
Occasionally, you'll find little "Nota Bene" messages in the text. Since these little reminders often point to something important, I translate them on a sticky note and stick it in the book, so I can note the point well when referencing the book in the future. You can easily translate little tidbits like this, using any online translator (like Google translate).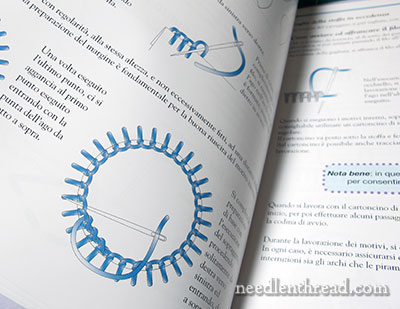 More examples of the diagrams – the buttonholed cutwork circle is used often in Hedebo…
…and so are these wonderful scalloped edges.
This is one of the many things I really love about whitework and needle lace techniques:
Here we have some excellent instruction on scalloped edgings that are used in Hedebo embroidery. But there's no restrictions on your use of these scalloped edges! You are perfectly free to use them in any type of embroidery. Needle lace and whitework techniques are made up of elements that translate well into many types of embroidery. So I never view a whitework or needle lace book purchase as "limiting" me to only one particular type of embroidery. With a little imagination, you can incorporate what you learn from whitework and needle lace instruction into all kinds of other embroidery applications.
After the basics of Hedebo are covered via diagrams, we move into the photographs. And there are many!
The photos offer up-close, detailed, step-by-step instruction in the processes of Hedebo embroidery.
First, we're presented with a pictorial index of the various needlelace elements typically found in Hedebo.
Then, each element is broken down into these step-by-step photos.
Other elements of Hedebo embroidery – like these wonderful detached rings that often ornament the edges – receive the same meticulous instructional treatment.
At the end of the book, there are several practice projects that include patterns, materials lists, and instructions. This ring-bearer's pillow is gorgeous!
In a Nutshell
If you like whitework, cutwork, and needlelace, you'll like the book!
Ricamo Hedebo is an excellent instructional book, perfect for beginners to this type of whitework embroidery. If you don't read Italian, don't worry – it's not essential here. The diagrams and photos make the book perfectly accessible.
There aren't a whole lot of books on Hedebo embroidery out there. I have two that I like – this one, and one in Japanese. (Thank goodness for photos!)
Where to Find It
You can find Ricamo Hedebo through the following book affiliates:
In the US, you can find a few used and new copies of Ricamo Hedebo on Amazon. Some are ridiculously priced, though!