When it comes to learning a new embroidery technique or improving your skills in a technique, I think one of the best ways to learn, short of private classes, is to work a kit designed by an expert in that particular technique.
I never hesitate to recommend stitchers to various designers around the world who provide excellent instruction through their embroidery kits.
When it comes to authentic crewel work, Phillipa Turnbull's Crewel Work Company, located in the UK, produces beautiful, historical crewel kits replete with all the right materials and excellent instructions.
During May, Phillipa is offering something special to readers here on Needle 'n Thread – an excellent way to learn crewel work, with an extra component beyond a kit. Read on, read on…
First of all, there's the kit component. If you're looking for crewel embroidery kits, you'll find three levels of crewel embroidery kits available at The Crewel Work Company, for beginner, intermediate, and advanced stitchers. If you haven't visited the Crewel Work Company website in a while, you'll be delighted by some new designs, too.
The Rabbits! above are my favorite in the beginner level kits. The design includes many different crewel stitches, some nice sections of long & short stitch shading and lattice work, some chunky acorns, and two little chatty rabbits with bright little beaded eyes. Some nice variety for the newcomer to crewel!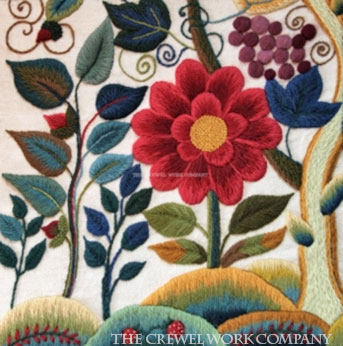 But my favorite crewel kit at The Crewel Work Company right now is this explosion of color and growing things called Lady Anne's Flower. It's found under the intermediate level kits. I love the vibrant colors and the shading, the sheer abundance of the design, and those cute little strawberries in the front of the foremost hill. I think it's lovely and downright fun!
Free DVD
So, here's the deal on a Month of May promotion for Needle 'n Thread readers, for stitchers who want to learn crewel work:
During May, with any purchase from The Crewel Work Company in which you mention "Mary Corbet" during the checkout process (instructions below), you will receive, for free, one of these: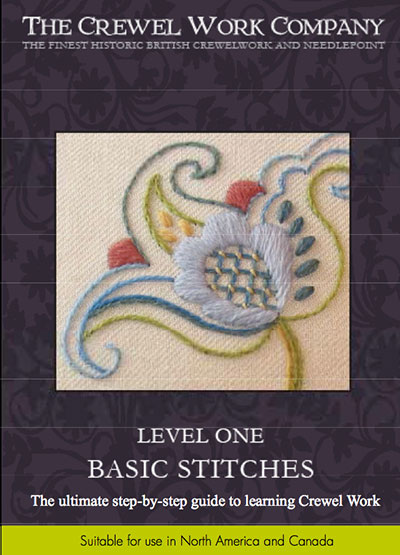 This is Phillipa's level one instructional DVD for crewel embroidery, formatted for Region 1 DVD players (that's the US & Canada). The DVD covers getting started, equipment, materials and how to use them, use of the frame or hoop, the six basic stitches of beginning crewel work, blocking your work, and handy hints. The DVD also includes the story behind the crewel bedspread that Phillipa embroidered for the Queen Mother for her home, Glamis Castle.
Here's a clip from the DVD, as a little taster. Keep in mind that the image will be much larger and much clearer on your own home entertainment system or computer.
E-mail subscribers can view the crewel video clip here.
So, if you'd like to learn crewel work or brush up your crewel embroidery skills, the month of May is a great time to do that with a kit (or any other purchase) and free DVD (region 1 formatted) from The Crewel Work Company.
By they way, for those who have contacted me recently about seat frames with hoops – the Crewel Work Company carries those, too.
Guidelines
For the free DVD to be included in your purchase, add "Mary Corbet" in the box titled "Where did you hear about us?" on the standard checkout page.
If you check out via Paypal, in the section where you confirm your shipping address, right underneath your shipping address, there's a line that says "Note to seller". Click on "Add" and mention "Mary Corbet" in the comment box there.
And that's all there is to it!
So if crewel embroidery has been on your bucket list, there's no time like the present to indulge in a kit and get a free instructional DVD at the same time, from one of the world's foremost crewel embroiderers.
And now I'm going to go contemplate that Lady Anne's Flowers kit again….
I swear I hear it calling me…