Today we get to find out who won a copy of Monograms: The Art of Embroidered Letters by Susan O'Connor – a book that is currently out of print, but in the process of being re-printed. It's hard to find an original edition of this book, and if you do, it's often Very Pricy Indeed.
So, last week, to help spread the Love of Monograms to all, I decided to give away a copy of the original edition. And today, one lucky gal out there will find out that she gets to add this lovely tome to her needlework library!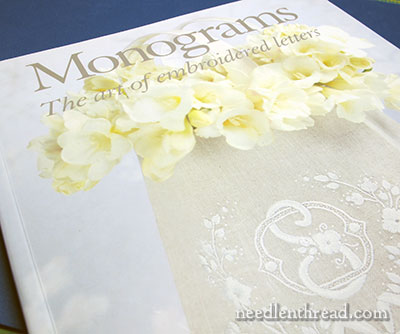 I really wish I could send each of you a copy of this book. It's such a good book – and I'm so happy it's being reprinted and will be available later this year!
One of the most enjoyable parts of running give-aways on Needle 'n Thread is reading the comments that come in. For this give-away, this was the question:
What appeals to you most about hand embroidered monograms? (Is it the personalization? The elegance of them? The timelessness of them? The techniques used, which can translate into other types of embroidery? Is it a nostalgic thing? Is it that you love the threads and stitches used? Etc.) Just tell me why hand embroidered monograms speak to you.
And it was fun – and inspiring – to read your answers! Most of us seem to like a combination of everything a monogram represents, from the artistry of the monogram, to the individualization implied by it, to the nostalgic connections to monograms in their own lives or to the past.
Well, on to the winner!
Drawn randomly, the winner is Anne (or "annie" in the name line), who answered the question thus:
I have studied calligraphy for almost 30 years and embroidery almost 40 (off/on until recently). It is these two interests that got me obsessed with designing monograms for embroidery. 
I would love to have this valuable resource for reference as I design and stitch! 
Thanks for a chance!
 With hope,
Anne
Congratulations, Anne! Please drop me a line with your mailing address, and the book will be winging its way to you shortly.
Thanks to all for participating – who knows, maybe we'll do it again when the new edition comes out!