Today, because it's Thursday (which really has nothing to do with anything)…
…and because it's the day before a glorious three-day weekend (which has everything to do with everything!)…
…and because it's a cool and beautiful 50 degrees in Kansas this morning (which is enough to put anyone in a good mood in mid-summer!), I'm giving away a copy of Little Flowers in Silk & Organza Ribbon by Di van Niekerk, which I reviewed the other day.
If you'd like a chance to add this title to your needlework library, complements of yours truly, read on…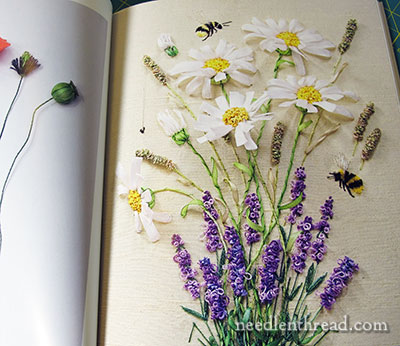 If you'd like to know more about this gorgeous book that's both inspirational and instructional, please read my in-depth review of Little Flowers in Silk & Organza Ribbon.
The book is full of sumptuous embroidery projects worked in silk and organza ribbon and embroidery threads, with step-by-step instructional photos to help you create them.
It's an excellent book to have on your shelf, if you are interested in silk ribbon embroidery, if you're looking for unique three-dimensional embroidery techniques, if you're keen to add ribbon embroidery to crazy quilts and the like – or if you just love beautiful embroidery!
Give-Away Guidelines
To enter today's give-away, please follow these very simple guidelines:
The Give-Away is Ended. Thanks for Participating!
1. Leave a comment below (not via email – your comment must be left on the website, on today's article – just use this link and you'll get to the right place.)
2. Please make sure you leave a recognizable name either in the comment box or in the "name" line on the comment form, to avoid confusion when the winner is announced.
3. In your comment, please answer the following question:
What attracts you most to ribbon embroidery and makes you Really Want this book?
4. Leave your comment before 5:00 am (CDT – Kansas, USA), Tuesday, July 8th, and I'll announce the winner that day. The winner will need to contact me within 48 hours with a mailing address.
The book will ship new from the UK, and the give-away is open to anyone, anywhere.
So, if you want a chance to add a copy of Little Flowers in Silk & Organza Ribbon to your own library, here 'tis – go forth and comment!
And have a terrific day!
(Oh, and by the way, no, I didn't have to eat my hat yesterday!)