Oh my goodness. The words that come to mind! Lavish, Lovely, Luscious – Di van Niekerk and Marina Zherdeva's new silk ribbon embroidery book, Little Flowers in Silk & Organza Ribbon is all of the above!
For silk ribbon embroidery enthusiasts, I'm pretty certain all of Di's books are a must for your bookshelves. But silk ribbon embroidery – and the techniques found in this book that I'm reviewing today – goes beyond just the SRE enthusiast.
If you are a crazy quilter, if you love stumpwork and three-dimensional embroidery techniques, if you are a flower enthusiast, if you just like pretty things – this book will draw you in and teach you much!
First off, like all of Di's books, this one is a beauty. It's one of those books you can leave out on your coffee table, that people who aren't remotely interested in embroidery will browse through and take delight in.
The photos, the colors, the abundance – the book is mesmerizing!
But the great thing is that Di & Marina combine a gloriously beautiful book with solid instruction. That's a win-win combination for me. I love to look at books, but even more so, I love to read them and learn from them.
The first part of the book is devoted to the basics, including the materials you'll need for silk & organza ribbon embroidery.
Di covers all the tools and equipment, the types of fabric, needles, ribbons (and where to find them) – everything you need to get started, with clear tips and resource information.
For adventuring forth in this type of silk ribbon embroidery, you'll find some items on the list that are a little different from your typical hand embroidery excursion. For example, a glue stick!
After covering all the needful supplies, the authors go on to explain the basics of silk ribbon embroidery, and this is all done with clear text and precise, step-by-step photos.
So even though the projects in this book look elaborate and advanced, I think the newbie to silk ribbon embroidery can definitely venture in, too. All the basics are covered, so if you're just starting out, you'll have the foundation information you need to approach the projects in the book.
They also cover techniques that are a little different, when compared to most silk ribbon embroidery instructional books. They show you how to use wires effectively (great tips here for stumpwork embroiderers, too!), how to make seed pods, how to measure things and make butterfly wings. Lots of neat little tricks, all mapped out step-by-step.
And then…the projects! They're all flowers – narcissus, poppies, chamomiles, a rose wreath, strawberry blossoms, a ring of daisies, double roses and blue violets, wild roses and pink blossoms!
Each project begins with a full, up close, colored photo of the finished design, gorgeously executed.
We're given a line drawing for the design transfer and a thorough materials list.
And then, we're taken step-by-step through the entire project with photos and text, so that we can re-create the design with confidence.
It's pretty much as close as you can get to having the teacher with you, without having the teacher with you!
The projects begin from the beginning – from the set up of the whole project – and take you all the way to the finishing.
I thought the narcissus and the poppies were my absolute favorites in the book…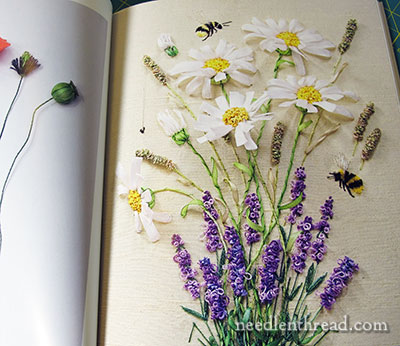 …until I saw the chamomile.
And my heart melted.
Each project is more beautiful than the one before, but I am partial to the chamomile. I've put it on my List.
The book ends with a stitch dictionary devoted to the various ribbon embroidery (and regular embroidery) stitches that you'll use in the projects.
And there it is, my friends – another glorious book from Di van Niekerk!
Where to Find It
You can find Little Flowers in Silk & Organza Ribbon available through the following book affiliates:
In the US, Little Flowers in Silk & Organza Ribbon is available here through Amazon.
Worldwide with free shipping, you'll find Little Flowers through Book Depository.