Ah, Monday! A perfect day to finish something!
Normally, I procrastinate until Mondays, when I begin things. It's a bad habit – "I'll start that on Monday…." – but for some reason, Mondays seem like good days to start things. It's like the beginning of a new year, in miniature form. And since it happens 52 times a year (give or take), that's a lot of opportunities for new beginnings!
But, today, we end. We end the Delicate Spray monogram alphabet with the last four letters: W, X, Y, and Z.
Here they are!
We talked before about how the W in a monogram alphabet is often left out, on the principle that the M can be flipped. Instead of flipping the M for this alphabet, I preferred combining two V's.
The left side of the V makes up the left side of the W, and the right side of the V makes up the right side of the W, and then, where the two overlap, I turned a short loop into the center.
So that's another alternative for manipulating a W out of an alphabet that doesn't provide one. It works!
I like this X. It's one of the less awkward-looking X's out there.
The X in a monogram alphabet is probably the least-used letter. But when you need an X, it's good to have a nice one.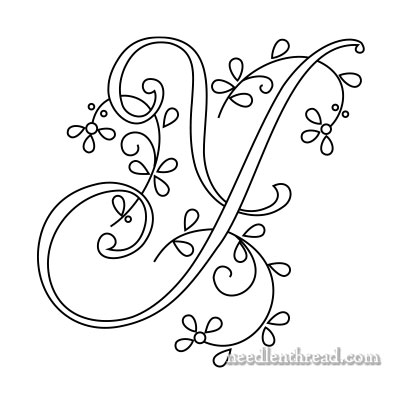 And I think the Y is also very pretty – I like the way the smaller intersecting arm slopes gently into the main line of the letter, rather than scooping down like a U.
And, finally, the Z!
And that brings us to the end of a lovely alphabet!
You can find various suggestions for stitching these letters – as well as some beautiful embroidered examples – among the other letters in the alphabet, which you can find in this index of free monograms for hand embroidery.
Monograms for Hand Embroidery – Printables
Here are the PDFs for today's monograms. The letters will print at 1.5″, 3″ and 4″ high if you choose no scaling (or a similar setting) on your printer. You can enlarge and reduce them by using the scaling feature on your printer or by using a photocopier.
Monogram for Hand Embroidery – Delicate Spray W (PDF)
Monogram for Hand Embroidery – Delicate Spray X (PDF)
Monogram for Hand Embroidery – Delicate Spray Y (PDF)
Monogram for Hand Embroidery – Delicate Spray Z (PDF)
Favorite Monograms – PDF Collection
You'll find this complete alphabet – along with 15 other decorative alphabets – all in one place in Favorite Monograms, a downloadable PDF collection of 16 monogram alphabets perfect for hand embroidery and other crafts.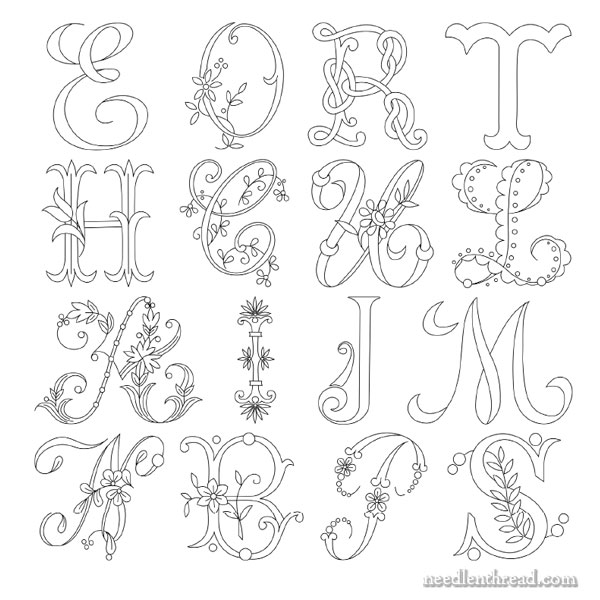 In the photo above, you can see samples of each alphabet available in Favorite Monograms.
Each letter in each alphabet in Favorite Monograms has been carefully traced into a clean line drawing that can be easily enlarged or reduced on a home printer or a photocopier.
The 16-alphabet collection is delivered as via a download link to your inbox shortly after purchase, so that you can begin creating right away! Priced at less than $1.00 per complete alphabet, monogram lovers can't go wrong with this collection!
Favorite Monograms is available in my shop, here.