We're nearing the end of the Daisy & Rings monogram alphabet here, which is always exciting! You can collect the free PDF printables for these monograms on the Monograms index, if you'd like.
Monograms, by the way, are not only terrific for hand embroidery, but they come in handy for many other craft applications as well. Card making and other paper crafts seem to be popular choices, for example.
One reader wrote to say that she used this alphabet to make a set of note cards, combining watercolors and ribbon embroidery. She printed the letter on note cards, used watercolors to paint them, and then touched up the flowers with little bits of ribbon embroidery. On the inside of the card, she pasted heavier color-coordinated cardstock to cover the back of the embroidery. I haven't seen photos, but I thought it was a great idea!
The W in this monogram alphabet is basically a two-for-one. It's a combination of two V's, since there was originally no W. It works out ok, and it fits the look of the rest of the alphabet, but admittedly, it makes for a Really Large Letter!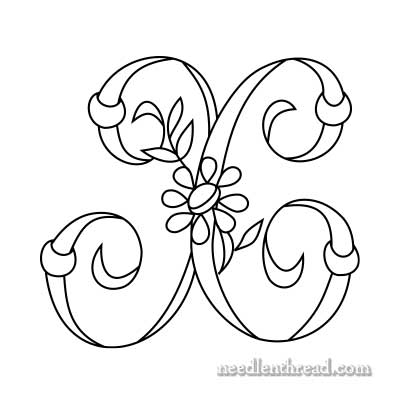 And here's the X, which is pretty much what one would expect in an X.
Online Resources for Monograms
In case you haven't seen them, here are a few online resources for monograms and other embroidery patterns.
The first is Broderie d'Antan. Here, you'll find a fantastic collection of scans from old publications. If you use the side bar on the right to navigate, you'll find individual letters of the alphabet that you can browse through. You'll also find plenty of other vintage patterns on the site, including borders and frames for monograms and all kinds of other vintage patterns, too.
It's probably a good idea to read her introductory information (use Google translate if you need to), so that you know what not to do. She doesn't take personal inquiries and so forth through her blog for help finding patterns, and she doesn't give any stitching help or anything like that. The site is pretty much what-you-see-is-what-you-get.
Patternmaker Charts is an excellent place to find old Sajou embroidery albums, for both cross stitch and surface embroidery. They also offer an array of Russian, German, and Ukrainian albums as well.
In the main menu on every page (the grid with blue, yellow, and green squares), any number with an asterisk * next to it is a line alphabet (as opposed to a cross stitch alphabet). Click on the number in the little square and that will take you to a new page with the same grid at the top. Scroll down the new page to find the album scans.
Those are really the two best online resources for old monogram patterns. I hope you enjoy them!
PDF Printables
Here are the free PDF printables for today's letters. The letters will print at 2″, 3″ and 4″ high, if you choose "no scaling" or a similar option on your computer. Of course, you can reduce or enlarge them as you wish!
Monogram for Hand Embroidery: W
Monogram for Hand Embroidery: X
And if you'd like to find the rest of the letters in this alphabet, you'll find them on the Monograms index or on the Patterns page here on Needle 'n Thread.
Favorite Monograms – PDF Collection
You'll find this complete alphabet – along with 15 other decorative alphabets – all in one place in Favorite Monograms, a downloadable PDF collection of 16 monogram alphabets perfect for hand embroidery and other crafts.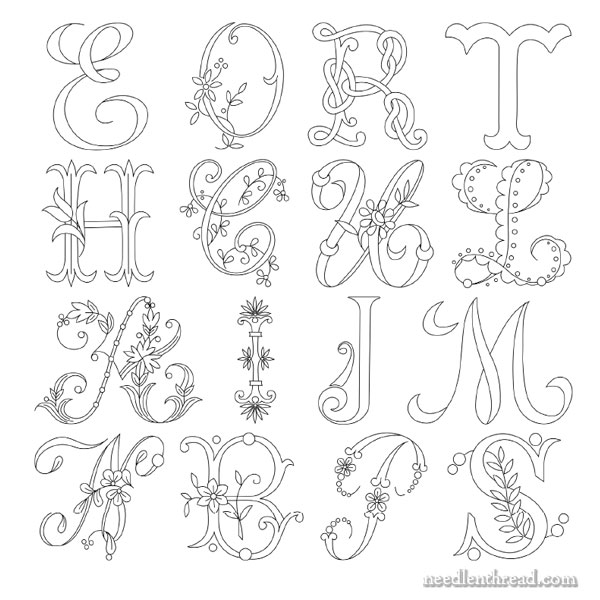 In the photo above, you can see samples of each alphabet available in Favorite Monograms.
Each letter in each alphabet in Favorite Monograms has been carefully traced into a clean line drawing that can be easily enlarged or reduced on a home printer or a photocopier.
The 16-alphabet collection is delivered as via a download link to your inbox shortly after purchase, so that you can begin creating right away! Priced at less than $1.00 per complete alphabet, monogram lovers can't go wrong with this collection!
Favorite Monograms is available in my shop, here.