Golly, it's been a long time since I offered a free hand embroidery pattern to you all, that isn't a monogram!
Today seems as good a day as any to share one of the embroidery patterns I've been playing with this year.
This particular pattern was inspired by a design from a very old folio of full-sized ecclesiastical patterns that I was able to buy from a used bookshop in Belgium.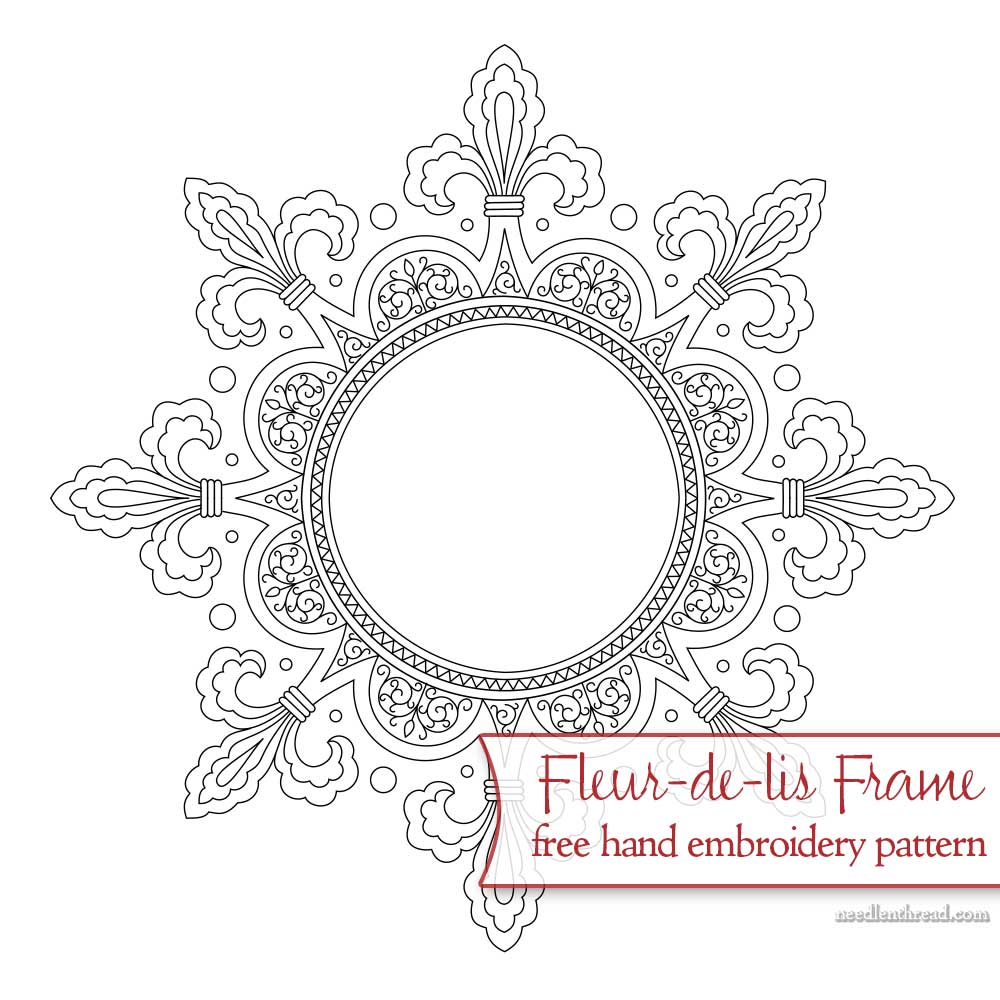 You don't often find full-sized church pattern folios from the late 1800's-early 1900's still intact, with all the pages whole and entire, unused, so this particular folio is one of my favorite treasures.
Preserving & Printing Large Embroidery Patterns
To make sure I preserved it a number of ways, I took it to a blueprint printer and had two full sets of prints made of the whole folio, on vellum. One of these sets, I'll use. The other, I'll save.
I also had the pages scanned and saved as full resolution PDFs and TIFFS. That way, I have both electronic and vellum copies of the designs.
If you ever do come across large, full-sized old pattern books that you want to preserve, take them to a blueprint printing service. You can choose the type of paper you want them on (vellum is an excellent choice for embroidery patterns), and you can have them scanned, too, so that you can save them electronically.
Embroidery Ideas
Back to the today's pattern – it's pretty versatile. You could work it in any surface embroidery techniques, really. Of course, goldwork and silk come to mind right away, but whitework, regular surface embroidery with floss in colors, even wool embroidery for, say, a cushion cover – they'd all work!
For the center, you could embroider a monogram, perhaps. You could even cut out the center, mount the embroidery on mat board, and use it literally as a frame, around a photo or a mirror.
Use in Church Embroidery
If you are interested in church embroidery, this type of frame is often used to decorate a sacred monogram, like this: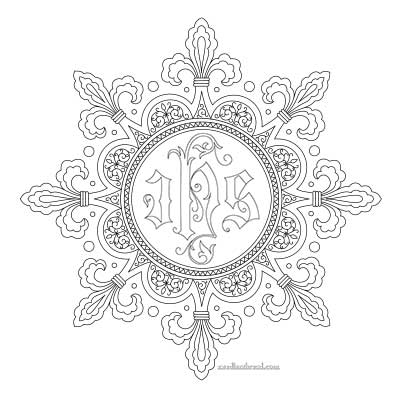 An IHS, Alpha & Omega, or a Marian monogram would work well. The IHS above is taken from one of the designs in my Church Patterns e-book. It fits really well!
You can do this pretty easily by printing the patterns (the frame and whatever you're going to put in the middle of it) at the right size ratio, then cutting out the inside design, situating it and taping or gluing it in place inside the frame. Then, take it to a photocopier and have it enlarged to the size that you want.
The Fleur-de-lis Frame could also be enlarged quite a bit and used to surround a piece of figure embroidery or a larger symbol. It would make a great decoration for a vestment, a pulpit fall, an altar frontal, or a banner. Reduced and stitched very fine, it would work well on a pall or other small linens.
It can also be used for embroidery other than church embroidery. The design itself, without the inside sacred monogram as it's shown above, is adaptable.
PDF Printable
Here's the PDF printable for the Fleur-de-lis Frame. The design will print at about 7.75″ square, if you choose the "no scaling" or similar option in your printer settings. A photocopier is the best way to enlarge it, if you need to.
Fleur-de-lis Frame – Free Hand Embroidery Pattern (PDF)
Don't feel limited to using the design for embroidery! If you're into paper crafts, painting, and the like, it'll translate pretty well into other craft mediums, too.
Hope you find a use for it and enjoy it!
You can find lots more free hand embroidery patterns right here on Needle 'n Thread, if you're looking for something fun to stitch! If you are interested in church embroidery, check out my Church Patterns e-book, which has over 120 ecclesiastical designs that have been straightened and cleaned up into clear line drawings that can be enlarged or reduced as you need them.