If you've been collecting the letters for the Daisy & Rings monogram alphabet, you'll be happy to know that today, we've reached The End.
Sometimes, The End is a great place to be!
For those of you just joining in here at Needle 'n Thread, you'll find this complete alphabet of monogram letters available here.
Each letter has a free PDF printable with three sizes of letters on it. And many of the articles that accompany the letters offer stitching tips and ideas, links to monogram resources, and so forth.
Without further ado, here's The End of the Alphabet – letters Y and Z.
I like this style of Y – though it's quite upright, it's also still very scripty.
I prefer this upright letter with the swirl at the base, instead of the upward swoop that crosses over the downward stroke, like you'd find in a typical penmanship alphabet.
And here's the Z, which really does bring us to The End.
PDF Pattern Printables
If you'd like to save these letters and print them for your own use, just click on the links below, and a PDF will open in your browser. Save the PDF to your computer, and you'll have access to the letters whenever you want them. If you choose "no scaling" on your printer (or whatever similar setting your printer offers), the letters will print at 2, 3, and 4 inches tall. You can also enlarge or reduce them on your printer or a photocopy machine.
Monogram for Hand Embroidery: Daisy & Rings Y (PDF)
Monogram for Hand Embroidery: Daisy & Rings Z (PDF)
Favorite Monograms – PDF Collection
You'll find this complete alphabet – along with 15 other decorative alphabets – all in one place in Favorite Monograms, a downloadable PDF collection of 16 monogram alphabets perfect for hand embroidery and other crafts.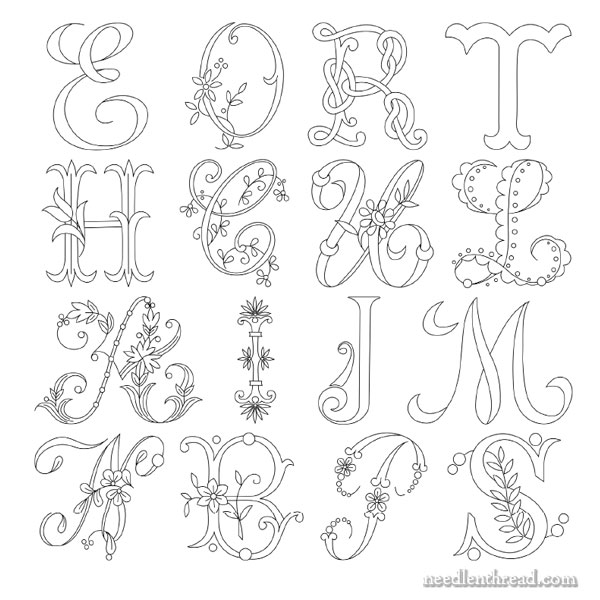 In the photo above, you can see samples of each alphabet available in Favorite Monograms.
Each letter in each alphabet in Favorite Monograms has been carefully traced into a clean line drawing that can be easily enlarged or reduced on a home printer or a photocopier.
The 16-alphabet collection is delivered as via a download link to your inbox shortly after purchase, so that you can begin creating right away! Priced at less than $1.00 per complete alphabet, monogram lovers can't go wrong with this collection!
Favorite Monograms is available in my shop, here.