You know the saying, A bird in the hand is worth two in the bush? It means that what we already have is more valuable than what we hope to get some day.
I'm thinking we could apply this to the Secret Garden Hummingbirds, now that one of them is completely finished. I learned a lot when embroidering the first bird – and I suspect the future hope of having the second bird eventually finished will not be quite as interesting a journey.
But … it will certainly be a faster journey!
So, I finished all the embroidery on the first hummingbird, including the bird's beak, which I'm still debating about. Perhaps you can help me?
You're welcome to click on any of the images in this article for larger versions.
Last time we looked at the hummingbird, I had 9 feathers left to embroider. Because most of them were very small, they went quite quickly.
On the little feathers on the far left of the tail, I stuck with a darker and greener version, to mirror the darker, greener feathers in the lower wing above.
The small feathery bits showing behind the top of the wing, I worked in the darkest blue with a little bit of bright blue thrown in to lighten it up and give the feathers some direction.
Then, I moved on to the beak of the bird.
Now, when I chose these colors for the beak, I had in mind the browns that will be worked into the stems & veins on the larger leaves (they're not all finished yet), thinking that all the brownish hues would pull together in the project.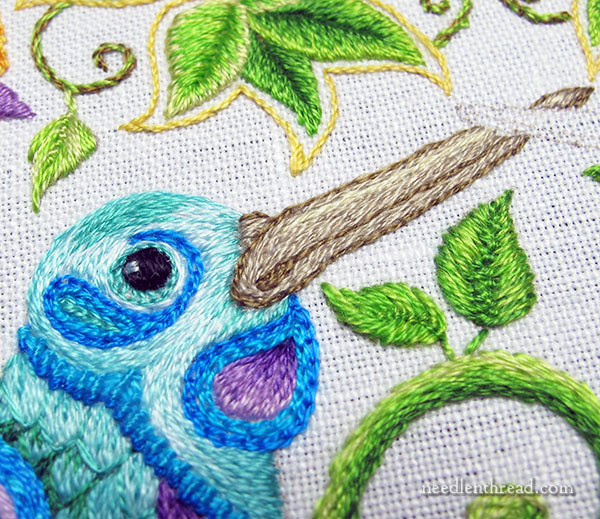 I worked the beak in split stitch, starting with the darker edges and the inside line. Then I filled with the medium brown, and then finished with a little strip of a highlight in a light creamy color.
The problem is that I'm just not sure of the browns.
The beak itself is large – it's heavy for a hummingbird. I think it should be lighter in color than, say, a grey / black / white combination, which I think would add even more weightiness.
This is it, in context:
(Don't forget to click the photo for the larger image…)
It just hasn't grown on me yet.
I've decided to leave it for now. Later, I may re-stitch it if some scathingly brilliant idea strikes.
But in the meantime, I thought I'd open it up for your opinion. What do you think of the beak, and what would you do differently?
Feel free to chime in below!
You can find all the articles relating to this project listed in chronological order in the Secret Garden Project Index, including the pattern source, the materials used, transfer and set-up of the project, and stitching tips along the way!