Several weeks ago, I reviewed this hand embroidery hoop stand – a hoop on a stick – and it prompted quite a few emails and comments from readers.
Most readers were chiming in to report great things about their sit-on hoop stands. Many readers hadn't heard of them before, or didn't know they could be found in the US.
And several readers wrote in with a very legitimate question, which I want to address today.
Condensed, the questions posed boiled down to this: "I would love to have a way to embroider with both hands free, but I just can't afford to purchase a stand right now. Do you have any suggestions for a less-expensive alternative?"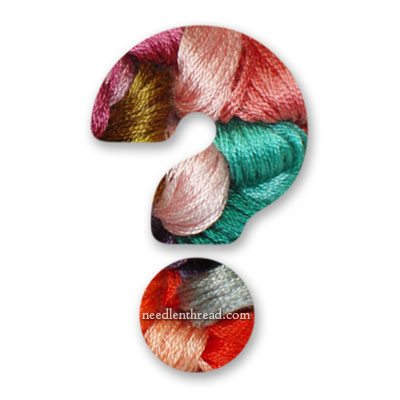 I thought I'd open the question of economic alternatives for embroidery stands up to all of you, too, because I think 20,000 collective heads are better than one!
Understanding the dilemma, I'd like to offer some good ways to manage two-handed stitching without breaking the bank – I'm pretty sure many of you out there can help provide some excellent ideas.
Using Clamps for Embroidery Hoops & Frames
The difficulty is that most hobby-stitchers embroider in an easy chair or on a sofa. This poses a problem, because you don't really have anything to support a frame or a hoop if you're sitting on a couch.
If you're sitting at a table, you can make use of a clamp that you can find at your local hardware store or online.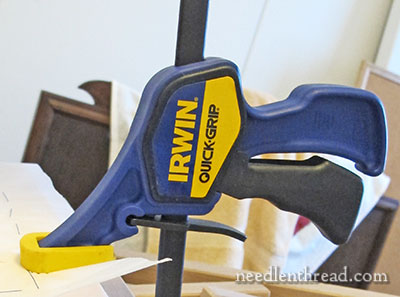 I use these particular Irwin clamps (that's an Amazon link…) in my work room quite often. They have a soft, wide foot, they come in different sizes, and you can manage them with just one hand. The mini clamp would hold a hoop or stretcher bars pretty easily. If you're using a large frame, you might need two clamps, or you might need the larger clamps.
With a hoop, you can position the clamp over the tightening hardware, because that's where you have the most grippable space on the edge of the hoop. I'd suggest a piece of scrap fabric between the clamp and hoop, just to protect your embroidery fabric.
The advantages of a clamp:
1. If you just need one clamp, it'll cost you around $10 – $11 for the mini clamp, and you'll be able to stitch with both hands free.
2. It's easy to tighten and to release (with one hand).
The disadvantages of a clamp:
1. You have to unclamp every time you need to reach the back of your work.
2. The positioning of the work is not flexible.
3. If you're clamping a hoop, a larger hoop is necessary if you want to have any stitching room. (A small 4-inch hoop doesn't clamp well and leave enough room to stitch.) So it may require you to invest in another hoop.
The Table Edge is Free!
If you're embroidering a large project that's set up on a frame and you don't have a stand to hold it on, the table edge is free!
Sit up to a table, rest the lower part of the frame on you (your lap, your stomach – wherever is most comfortable and offers the best stitching position) and the upper part of the frame on the edge of the table. Voilá! Two hands free!
Saving for the Right Equipment
One thing you might consider is budgeting and saving until you can afford to purchase the right equipment.
I can't stress enough that it's a waste to buy inferior products that will not withstand the test of time, that will not do in the long run what you want them to do. Better to save for the good stuff that will last, than to spend half the amount on something that's going to fall apart after a few uses!
Years ago, I wrote this article on budgets and hobbies, because I used to receive a lot questions about affording the supplies I use when I embroider. The gist of the article still holds true today – read it and see what you think!
Your Suggestions?
Please pitch in with your suggestions on how to manage two-handed stitching without breaking the bank for a floor stand or a lap stand! I've only offered two solutions, but I'm guessing that many of us have rigged up our hoops and frames different ways, in order to have two hands free.
Join in below with your suggestions and ideas! What's worked for you? What have you seen other people do, that works? Your advice is always appreciated!