The split stitch used in hand embroidery is one of the basic embroidery stitches. It's a simple stitch in concept; difficulty with the stitch usually comes from the splitting of the stitch from underneath. Some threads are easier to split from underneath than others. Personally, I think floche and wool are about the easiest threads to use for split stitch. But regular stranded cotton, stranded silk, twisted filament silk, and perle cottons and silks are all fair game for split stitch.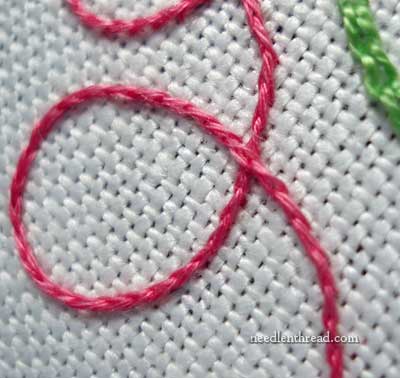 It's definitely worth learning to split upwards into the stitch when working split stitch. It just takes a little practice to get that upwards split correct. You can read about the difference between splitting the stitch coming up into it from beneath the fabric and splitting the stitching going down into the stitch from the top of the fabric (called split backstitch) in this article on split stitch vs. split backstitch.
Split stitch can be used to stitch delicate lines and curves, especially when you want detailed, tiny tendrils and or curved lines. You can see the split stitch used for small hand embroidered lettering in this article. This article also shows you how to start a thread when split stitching a line.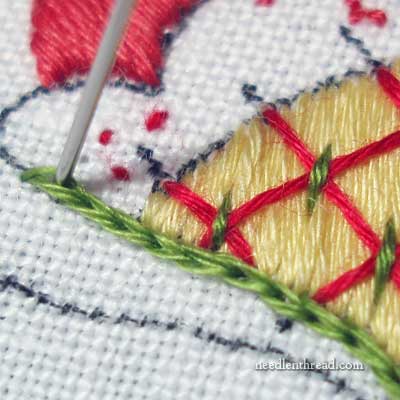 Split stitch is also often used for padding under filling stitches, especially under satin stitch. Stitching over a split stitch line when working satin stitch helps maintain perfectly smooth edges that have a little lift to them.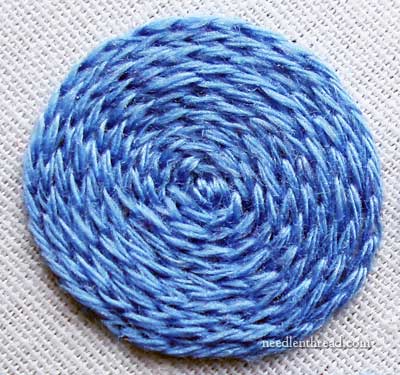 And of course, split stitch can be effectively used as a filling stitch for any shape.
Here's the split stitch video:
Do you want more inspiration & information on hand embroidery?
There are all kinds of reasons to sign up for the Needle 'n Thread daily newsletter! Check them out and sign up today!
If you're looking for other instruction for hand embroidery stitches, do feel free to check out my collection of hand embroidery stitch videos here on Needle 'n Thread!
If you like what you see on Needle 'n Thread, if you want to be a part of keeping the website thriving (and free of annoying network advertising), why not become a patron on Patreon? Check out my Patreon page here, where I'll occasionally add special needlework bonuses for patrons.
If you shop on Amazon, you can support Needle 'n Thread without any extra expense to you by visiting my Amazon Recommendations page here, where you'll find books and sundries for the needleworker available on Amazon.