It's been a while since I've featured some embroidery from you, so today, let's look at someone else's embroidery project!
Sarah Aldrich recently finished this fantastic crazy quilt square, made from a combination of red fabrics, with embroidery done entirely in white. The result is striking!
Let's have a look – and let's see what good lessons Sarah's red crazy quilt square can teach us.
(You can click on the photos below for larger versions…)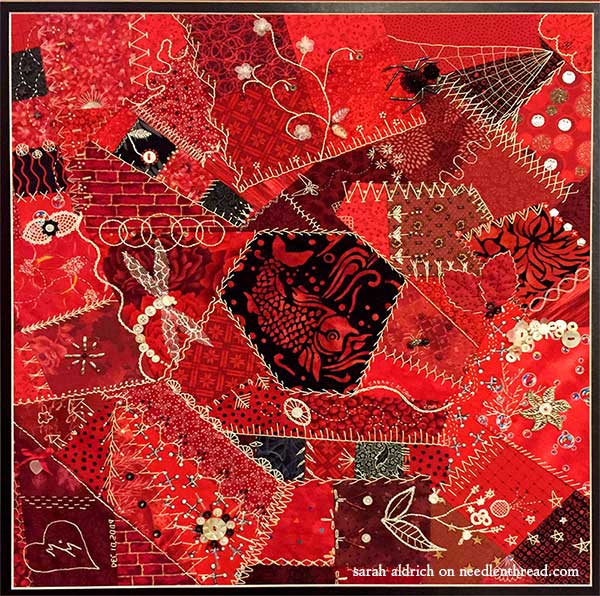 I'm a huge fan of the color red, so right off the bat, Sarah's crazy quilt square caught my eye. But I think I would have liked it in any color scheme that allows for a strong contrast, because that's what this square is all about.
Mostly, when we see crazy quilt squares, they're practically encrusted with all kinds of threads and colors, stitches, textures, fibers. Sarah's approach was simpler – she used two weights of thread only, in one color only, working on various intensities of red.
And this was done on purpose, so that she could concentrate solely on the balance of the piece.
When embroidery choices – especially thread and color choice – are minimized, the embroidery itself becomes important and noticeable.
These letters are less than 1/4″ high – tiny, but very clear!
The spider's made from two tiny doilies, crocheted with fine thread and a tiny hook. The legs are bugle beads. Brilliant idea!
With the embroidery options minimized, precision in stitching really stands out!
Spacing, stitch angle, length, and height – if there were serious flaws in these areas, they'd be really noticeable. This is a great way to show off individual stitches.
Sarah used two weights of YLI silk on the square, and here you can see both weights put to use – the heavier twist in the line stitch, and the delicate floss in the tiny, airy flowers.
And yet another lesson: when the embroidery choices in color, thread, and stitch are minimized, the choice of fabric becomes more important.
The fabric here is not just a ground onto which a lot of embroidery can be worked. It's a visual element, necessary to the piece. The framing of the fish in the center of the square works well to create a definite and noticeable focal point.
Another lesson: there's no rule that says you have to use a crazy quilt square on a quilt! This looks great framed.
And what an impact! Walk into the room and see this on the wall, and you'll be captivated. The more you look, the more you see – like any good crazy quilt square, it draws the eye around the square and makes us move on to discover the next delightful scene.
Lovely, isn't it? I'd imagine that this was a super-fun project to work on!
That's another thing about crazy quilting – there are no real rules to it, so you can embellish to your heart's content. There's no opportunity to get bored with it! You have to admit, that seams fun, doesn't it?
Thanks, Sarah, for sharing your crazy quilt square! It's a gem, with lots of good lessons to learn from it, not least of which is this final lesson: sometimes, less is more!
Over to You…
What are your impressions? Does this square teach you anything in particular about stitching, color, contrast, and so forth? Feel free to chime in below!