Corticelli, once upon a time, was The premier silk thread company. Corticelli silk was known around the world, and even now – though the company no longer exists – their threads are still well known by name.
The Corticelli silk company has an interesting history, which began in Florence, Massachusetts, in 1838, in an area where folks had been dabbling in sericulture and silk manufacturing for many years.
In 1846, one Samuel Hill took over the company, which was at that time the Nonotuck Silk Company, and under him, the company grew, especially due to his invention of a machine that produced the first successfully-made silk thread for sewing machines. The Singer company jumped on the thread, and the Nonotuck Silk Company really took off.
It was around this time, too, that the actual silk production shifted to China and Japan, because the US workforce could not affordably produce the amount of silk needed for the growth of the company. The raw silk was imported from Asia and then finished (dyed, twisted, spun, woven, etc.) in the mills in the US.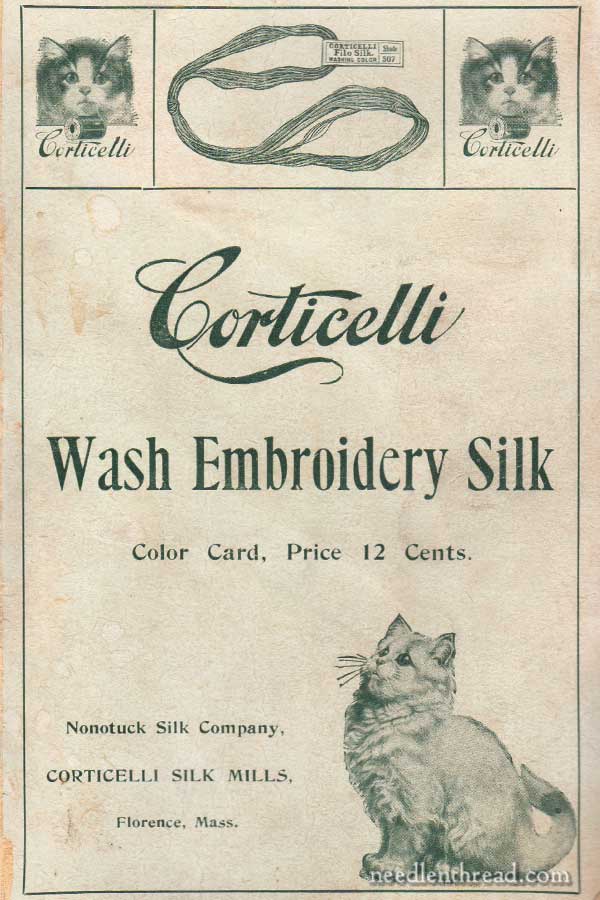 In the mid-1850's, the name "Corticelli" was applied to some of the silk products produced by the Nonotuck Silk Company, probably as a marketing ploy, since Italy was the popular center of the silk industry at that time.
Eventually, in the early 1920's, the company's name was changed from the Nonotuck Silk Company to the Corticelli Silk Company. A couple year's later, Corticelli and the Brainerd & Armstrong silk company (out of Connecticut) merged.
In the meantime, Belding Brothers (who began manufacturing silk in Belding, Michigan, in 1860) merged with the Heminway silk company in 1925, and began doing business as Belding-Heminway.
Shortly thereafter, Corticelli acquired Belding-Heminway, and thereafter, Belding-Heminway did business as Belding-Heminway-Corticelli, making Corticelli the largest silk company in the States.
Corticelli went out of business in 1930, and Belding-Heminway closed their last mill in Michigan in 1932.
Corticelli for the Embroiderer
For embroiderers, Corticelli produced a number of threads, from a very fine filo floss to their heavy rope silk.
And while you can still find vintage skeins of these silks available through outlets like eBay (sometimes ridiculously highly priced, and sometimes for a steal), it's very rare to find collections of vintage Corticelli embroidery silk that encompass all their sizes, let alone all their colors. So it is difficult to know what colors of silk and sizes of silk Corticelli produced.
Enter, the color card, with real thread samples on it.
Real thread color cards are such a good idea. There are some thread manufacturers that still offer color cards with real threads on them, and if you have a favorite line of thread that you use often, it's always a good idea to find out if the manufacturer sells a real thread color card. They make a great reference tool when planning projects.
This particular Corticelli color card is admittedly a favorite of mine. I've scanned it so that you can see what the Corticelli company included on their real thread color cards.
There's no date on this color card, but I know it is pre-1922, because it still includes the Nonotuck Silk Company name on it. The front and back cover feature the Corticelli kitten, so the card could date to 1910 or perhaps slightly earlier. The Corticelli Kitten logo first showed up popularly in advertising in 1910, dominating 42nd Street and Broadway in NYC – one of the earliest advertisements on "The Great White Way" – until 1913.
Page 2 (the inside cover of the card) features a list of flowers, accompanied by the thread numbers of Corticelli silk that would work well for embroidering those flowers.
Page 3 of the color card includes an interesting Announcement about Corticelli threads produced for Mountmellick embroidery. The rest of the announcement is a combination history lesson and advertisement.
On the right side of the page, you'll find a window housing real thread samples of the 13 threads produced by Corticelli. Each thread is numbered, and below, you can find the type of thread and an explanation of the colors it was or was not available in.
To. Die. For! Wouldn't you love to have thread cards like this, for your favorite threads? Weights, twists, etc., all visible, in real thread – and then, on the next page, all the colors, in real threads?
On pages 4 and 5, you'll find the real thread samples in all the colors available.
Certain symbols or letters next to colors indicate which types of threads (shown on page 3) are available in that particular color.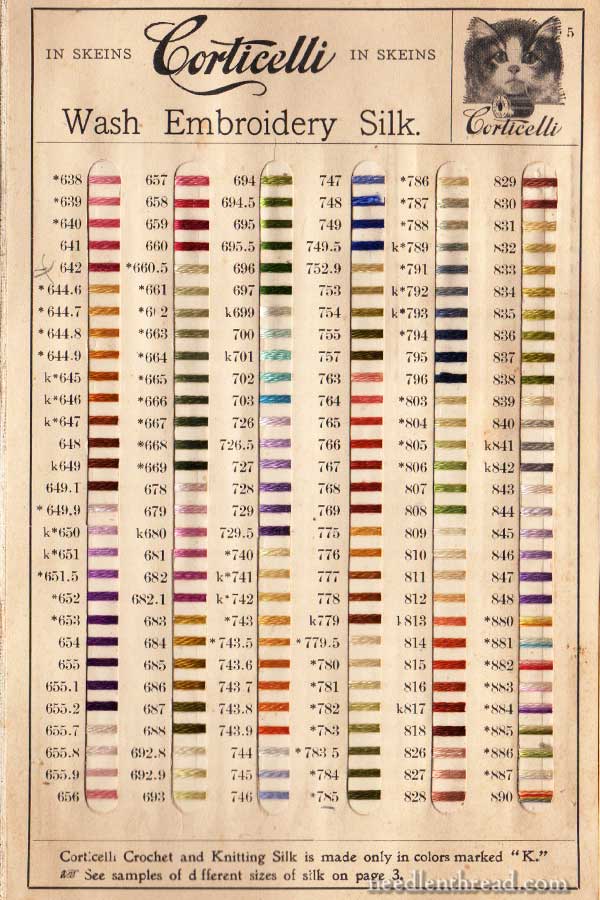 Feel free to click on the photos for larger versions.
You can see, in the lower right, that they even had a small line of variegated threads.
Even though the color card is about 100 years old, the silk is still vibrant.
Page 6 and 7 feature thorough descriptions of the Corticelli threads…
…including their silk made for crochet and knitting.
On the back cover, you'll find some marketing material – Corticelli won top awards in the silk industry for their threads, over all other threads manufactured at the time, both home and abroad. And they wanted to make sure their customers knew it.
And I love the fact that someone used this particular card to jot down the address of Sears, Roebuck & Co. in pencil.
If the writer only new that about 100 years later, someone else would be treasuring this card, she might not have written on it. But I'm glad she did!
So, a little history of silk manufacturing in the US and a glimpse at the very handy real thread color card.
If you have a favorite line of threads and they don't produce a real thread color card, it could be a fun project, to make your own! I've thought about that many a time. Maybe some day…
Further Reading
If you'd like some further reading on the history of silk production, Silk: It's Origin, Culture, and Manufacture is a nice little book available online.
You might also enjoy browsing The Northampton Silk Project website, which chronicles the history of silk production in Northampton, Massachusetts, and the surrounding area.
The Northampton Silk Route (PDF) is especially interesting.