It's Wednesday – a good day for a game!
I am the happy new owner of a collection of exquisitely fine, detailed embroideries that I'm going to tell you more about later on, as I finish up some research on them and clean them up.
I've been on a quest – thanks to the prodding of a reader in Australia who was on a similar quest – to find samples of this embroidery, and finally, I've got some in my grimy paws.
As you look at the photos below, can you guess what fabric this embroidery is worked on?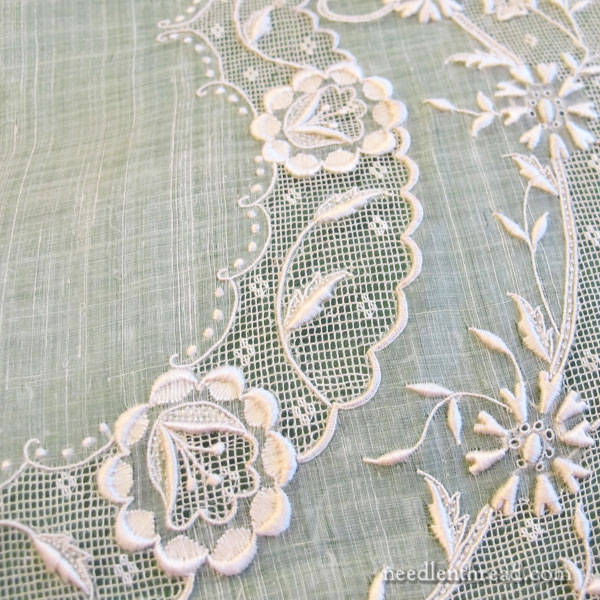 Pretty, isn't it? The embroidery is done in very fine cotton threads, in ecru. The piece itself is not white – it's more off-white or ecru, and it is somewhat discolored with age and storage stains and whatnot.
I'm going to wash it later this week – I can't wait!
The problem with taking photos up close is that it's not always the best perspective, for appreciating the delicacy and fineness of the work.
In the photo above, I'm using a #28 petit tapestry needle (a tiny needle!) to point to an interlaced drawn thread element.
It is almost beyond fathoming, how fine and detailed this embroidery is.
The fabric, as you can see, is sheer. That's my hand back there.
The piece is somewhat soft and supple, and airy light. There's practically no weight to it!
This end of the cloth is the most color damaged – you can see the streaks of discoloration in it, on the right side of the photo.
But, over a white background, you get a better sense that the cloth was not white, even originally.
And here's one of the flower elements up close, with the tip of the petit tapestry needle showing up on the left side of the photo.
The element is made up of satin stitch, a little bit of trailing, some drawn thread, seed stitch, and this: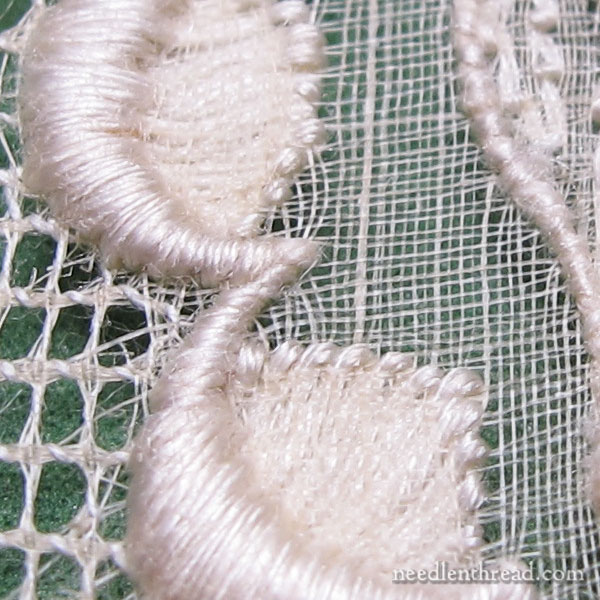 Can you see what's going on there? (You can click on the photo for a larger version.)
The stitches on the inside of the padded scallops travel up the inside scallop on the back of the fabric, they come up from the back of the fabric, and loops over a tiny bit of the front of the fabric to add that little perfect tip on each stitch.
Oh, gosh, I love that! You can only do that kind of thing with a very sheer fabric (or netting) and get such a nice, finished affect from it.
You can also see the fabric quite well in the photo above. It's somewhat irregular, with an open weave.
So, my question: can you guess what type of exquisitely fine fabric this exquisitely fine embroidery is worked on?
Chime in below with your guess! Or even if you know for certain (I'm sure many of you will know – you've probably run into this in your world travels…)
I'll show you this whole piece and others in the collection after I've cleaned them up a bit, so that you can see them in their full glory. And at that time, I'll tell you a bit about their history.