It all started on a gloomy winter afternoon, not long after lunch. I was feeling restless. Deep down, I was yearning for an Adventure.
But like a good girl, I betook myself to my studio to work.
Now, I know most people wouldn't consider embroidering while listening to good music or an audiobook work, and I don't, really, either. But it is what I do for a living, and there are days when it seems a little less than adventurous.
With the winter sky forcing its grey light through the windows, I sat silently in the half-gloom.
An Adventure! said I to me. You need an Adventure!
Suddenly, the sun broke through the clouds. It's rays slanted across my work table. With an angel choir swelling into sweet song in the distance, the light glinted on the needles protruding from my Ubiquitous Red Tomato pincushion.
And next to the tomato was a pair of….
scissors!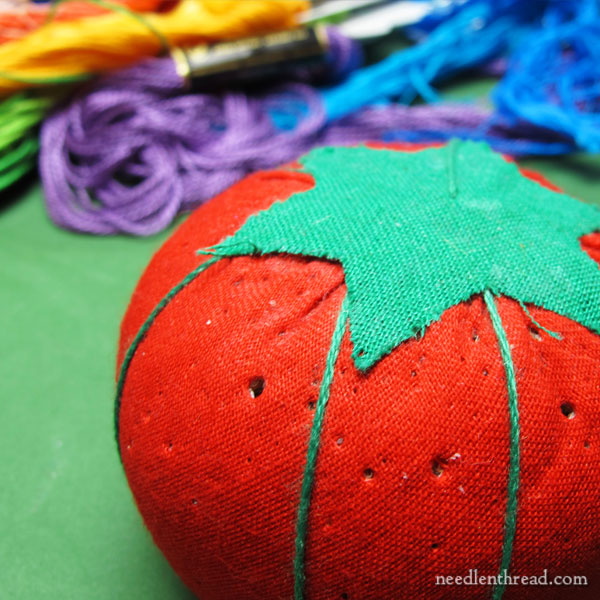 And thus, my Adventure began.
You probably know where this is going, don't you? This is an adventure wherein we witness the death of a tomato, we discover some hidden treasure, but we encounter a little unexpected secret – and a not-too-pleasant one, at that.
I've had this pincushion for years and years. It was inexpensive, it served a purpose. And it really didn't deserve to die the death it did, because it has done good service.
But I was curious, you see. Last month, when I wrote this article on Life as a Needle in my Studio, some readers commented on the stash of needles they found hidden in their own Red Tomatoes when they took them apart.
As I eyed my Red Tomato, I realized that it, too, could contain hidden treasure. And hidden treasure is always good motivation for setting out on an adventure. It seemed logical – even praiseworthy – to dissect the tomato and see what it would reveal.
My first step was to empty the Red Tomato.
This I did, sticking all the needles from the cushion into a piece of craft foam nearby.
How proudly they stand! And how serviceable they've been!
But I detected a note of sadness in their little eyes. Were they mourning the loss of their home? I assured them of a new home – a better home.
Utilizing my sweet biology skills that I picked up while dissecting frogs in high school, I made a careful incision in the side of the tomato.
The skin split, revealing a tight inner core of sawdust encased in thin plastic. Nothing adventurous here – this is what I expected.
Undaunted, I plowed ever forward! I broke open the tomato, splitting it completely.
And there, hidden within the dry sawdust, I spied several needles.
I could have poked and prodded at this point, sifting through the dusty filling with my fingers, but it seemed such a monumental task. I needed a tool!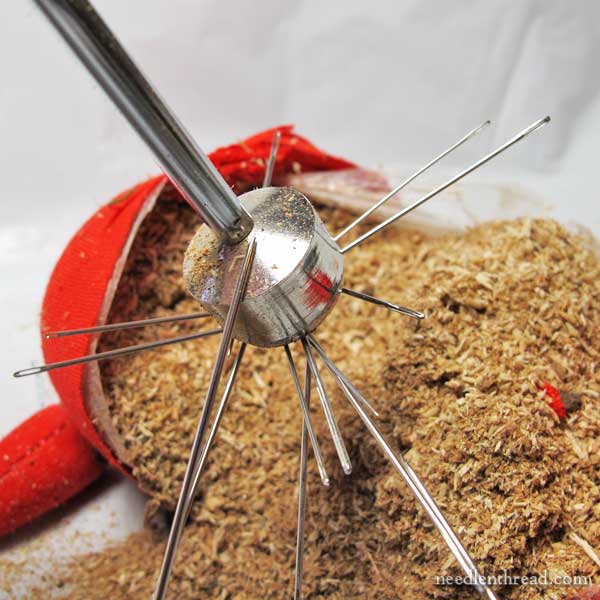 Out came the extension magnet. I inserted it into the mess with magnificent results! Sawdust flung far and wide when the needles snapped to the magnet.
I burrowed the magnet deeper and deeper into the heap, ecstatic over each little click as another needle snapped to the magnet's surface.
What excitement! I was thrilled! I tenderly removed my prickly treasure from the magnet, and leaned closer to inspect my glorious find…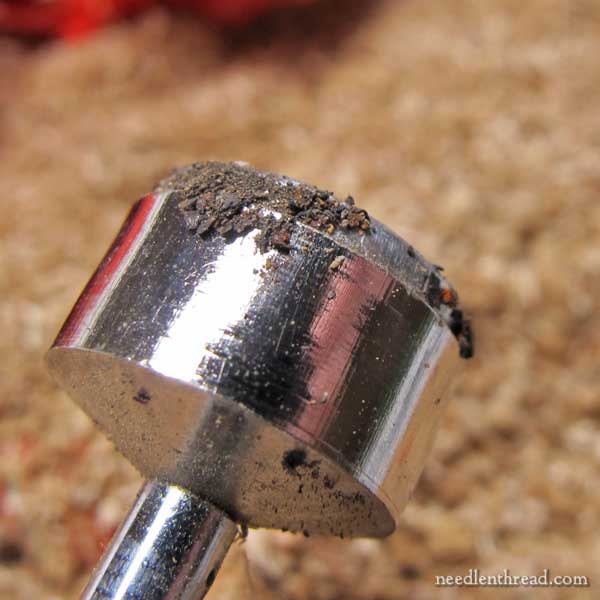 …when I noticed this.
Now, I'm not a complete "clean freak" – I don't obsess over cleanness, but I am pretty particular about dirt. I don't like Dirt in my workroom. I would never willingly invite Dirt into my workroom – or my house, for that matter.
So you can imagine my surprise. Dirt in my pincushion?
And what type of dirt was this?
In fact, was it even dirt? It looked like dirt, but I can think of some other things it could be, too.
All kinds of possibilities went through my mind. After all, this was sawdust from who-knows-where, and this was earthy looking stuff from who-knows-where.
First (much to my embarrassment to admit), I did smell it.
It smelled like….dirt.
Then I smudged it between two fingers, and in fact, it was muddy, like a damp, soft dirt, a little clayish.
I sifted through the sawdust, rubbing it through my fingers, and discovered that the pincushion actually had a lot of dirt in it.
I don't know why this troubled me so much, but it did. My needles were burrowing into a home of sawdust and damp dirt.
Yuck.
It was at that point that I rejuvenated my determination to situate my needles in a New Home. A Better Home. A Homemade Home.
The treasure yielded by the pincushion was not hugely significant – 26 needles, about six of which were broken, bent, or mutilated; all of which were dirty and needed a good cleaning.
Here they are, joining their companions, ready to work again.
Although I didn't find many dozens of needles inside the tomato, I did find the unexpected: Dirt.
The Discovery of Dirt inflamed a desire to make my own pincushion, with materials I can control – materials that are good for my needles.
And thus ended my Adventure. It ended successfully, with a clear plan for the future.
And I'll share that plan with you some day soon!