The last time I wrote about hand embroidery needles and how to choose them and use them, some of you asked how I organize my needles, so that I know which needle is what type and size.
I admit that, upon reading such an innocent question, the flush of shame overspread my Normally Alabaster Complexion.
Snort, snort! I don't have an alabaster complexion!
Probably I didn't feel a lot of shame, either. But I did laugh. Sort of a surprised belly laugh – almost a guffaw – that would convey this thought to anyone hearing it: Organize my needles? Oh golly. If they only knew….
I would love to tell you about my organized needle book! The one with the beautifully embroidered cover, the one divided into different sections, each devoted to a specific needle type, with each soft, woolly page full of perfectly ordered lines of needles, arranged by size, from small to large.
But instead, I'll stick to reality and show you this: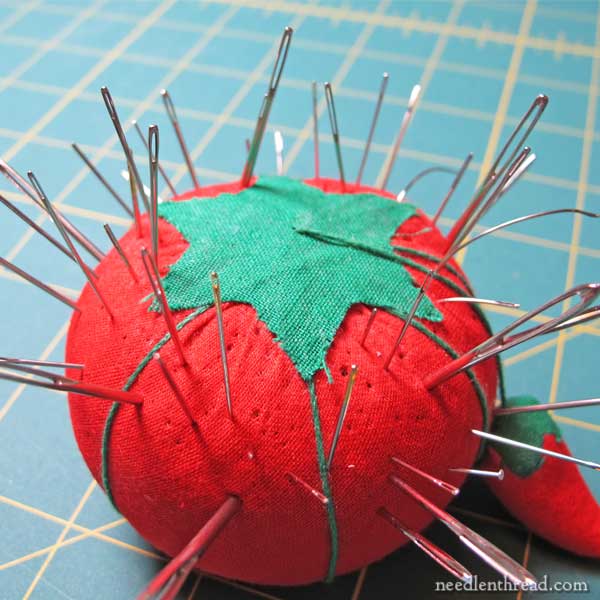 Sometimes, I call it The Pincushion of Despair.
It represents my longing to be an organized-needlebook-sort-of-person, but my inability to actually make myself be such a person.
After all, I'd have to pause and think about where I stick my embroidery needle when I'm finished with it.
My friend, the Red Tomato (with its inexplicable strawberry hanging from its stem – have you ever wondered about that? why a tomato and a strawberry? why not a tomato and an onion? or a tomato and a garlic clove?)…anyway, as I was saying, it eliminates the problem of thought for me.
I don't think about where or how I put my needles away. I just stick 'em into the tomato.
The tomato is the Great Receive of Every Needle that comes new, out of a package, to be used for one or many times in my workroom.
It is the Social Center of a Needle's Life in my studio. This is where needles meet, where they fall in love, and where I'm pretty convinced they breed.
I'm positively certain that I did not take that many new needles out of packages this year, or last, or in fact, in my whole life time. Where did they all come from?
There's only explanation: they reproduce.
They're like wire hangers – the ones that breed in your closet and end up a jumbled mess. You know you didn't start the year with that many hangers in your closet! There's no other explanation.
It's the same way with my needles.
The difficulty with such a set-up is that this many needles in close proximity can lead to Angry Needles. They tend to get a little short tempered when you start prodding your way into their domain.
And when you stick your fingers into that crowded, overpopulated mass of pokey, prickly needles to find just the right one, the results can be frustrating and sometimes even painful.
Instead of organizing my needles in some sort of perfect storage solution, I organize my needles before I start a stitching session. When I'm in the midst of stitching, I don't like looking for a particular needle. So I select my needles before I start, and I line them up, ready to use.
And here they stand, proudly ready to serve. To do their duty. To bring honor to their Needle Heritage. To do what they were Made to Do….
…and to enjoy a little elbow room, outside the Tomato.
It's amazing that I have this many #8 crewel needles, isn't it? I don't normally line that many needles up, ready to work, but I just kept pulling the same size needles out, one after another, wondering…where did these all come from?!
Since I'm working on the hummingbird, I'll be switching out colors and shades frequently, so it doesn't hurt to have a lot of needles lined up ahead of time. I've stuck them in a piece of craft foam that I use for paper piercing when preparing patterns for transfer.
How do I know they're #8 crewel needles? Well… I know they're crewel needles because of their structure – medium-long eye and a sharp tip. And they're too big to be a #10. They're too big to be a #9. But they're not quite big enough to be a #7.
Besides, #8 is my favorite size crewel needle, and it's the size that populates a good portion of the pincushion. It works well for one strand of floss or two. It's comfortable to hold. It's easy to thread.
I use #8 crewel needles quite often. But I didn't know I had this many – which only supports my theory that the needles in my studio enjoy a rather sociable life.
I'm working on the Organized Needlebook Thing. But in the meantime, the downright dirty truth is that I don't organize my needles.
I just have a Red Tomato.
And You?
How do your needles spend their spare time? Do you have them organized a certain way? Do you store them a particular way, once they're out of their little commercial sleeves? Go ahead, shame me! Tell us all about your needle storage solutions! I love hearing how other people organize. It gives me something to strive for! Feel free to chime in below!
Needle 'n Thread, Daily!
Did you know there are seven terrific reasons to sign up for the Needle 'n Thread daily newsletter? Check them out and sign up today!