Happy Last Monday of 2014!
I hope you had a delightful holiday, a Merry Christmas, and are looking forward with vigor and optimism to whatever 2015 will bring. I had a nice little break these last three days – though admittedly, I was feeling a little lost without your company!
Once the New Year kicks in (in just a couple days), a funny thing happens to me.
And it's funny because it happens every year, no matter what I do to forestall it. Deep down somewhere in my subconscious, I seem to illogically believe that once we hit January 2nd, spring is just around the corner.
And by just around the corner, I mean next week.
As many of you know, when you live in the northern hemisphere, this can be a dangerous mental predicament.
Usually, January is just the beginning of the winter haul. During November and December, we were so busy concentrating on holidays and reveling in everything we love about winter, that we didn't think of winter as a drag.
But come January, the grey days, the cold, the on-going inconvenience of snow, the yearning for sunshine, warmth, green… well, if you don't do something to combat this, the winter can seem very long, indeed!
And that brings me to an embroidery project that I worked six years ago, called Breath of Spring.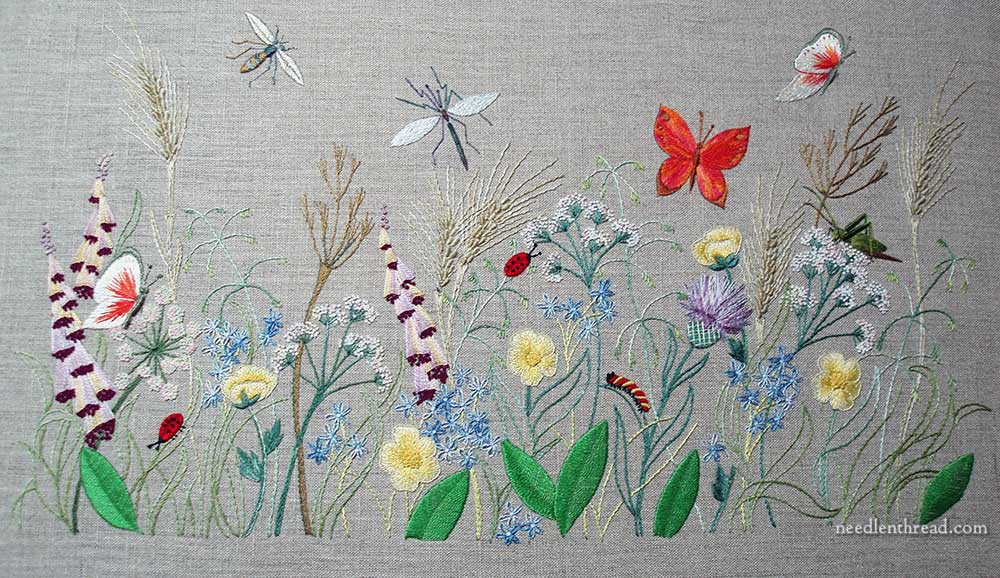 Designed by Beatrice Andrea and originally featured in Inspirations Magazine issue #56, Breath of Spring offers us a glimpse at a wispy, wildflower-strewn meadow, with grasses dancing in the breeze and bugs flittering about here and there.
Breath of Spring is one of those embroidery projects that you can't grow tired of stitching, there's so much variety in it.
And with its happy, springy subject matter, it's a perfect project for chasing away the Winter Blues!
I still remember clearly the pleasure of stitching this project, even eight years later. And it's still a popular project here on Needle 'n Thread – I often receive questions about it.
And until recently, I could only advise folks to seek out Issue #56 of Inspirations if they wanted to work the project. (You can often find back issues of the magazine on eBay and the like).
Breath of Spring Kit Available
Well, I'm happy to say that the folks at Canevas Folies over in Switzerland have made the kit available.
And for folks in the US, you'll find Breath of Spring embroidery kits at The French Needle.
Let's take a look at the kit, shall we?
If the kit is purchased through The French Needle, it comes with the stitch guide (what stitches are used where, with what color threads), the pre-printed linen ground fabric, and the over-dyed threads used in the design, from House of Embroidery.
The design also requires a few colors of regular DMC floss. These are not included in the kit.
For readers in Europe and elsewhere, if the kit is purchased directly through Canevas Folies, it does not include threads.
The stitch guide is exactly that – a guide detailing what stitches are used where. Color suggestions are also made, based on the House of Embroidery threads and some other DMC colors, if you want to produce the design as presented in the kit.
You can also wing it with the colors and make whatever substitutions you want, working from your own stash. There's a lot of room for interpretation!
The best part with a detailed design like this? The image is screen printed onto the linen ground, so you don't have to transfer all those little details!
What Do You Need?
There are some things not included in the kit, that you should have on hand.
You'll need crewel embroidery needles. Size 9 will do, as the embroidery is done in 1 or 2 threads.
You'll need a hoop or a frame. I worked mine on a frame, which I prefer with a project like this. But you can also work it in a hoop – you'll just need to move the hoop around on the fabric as you work. A 6 – 8″ hoop will work.
You'll need several colors of DMC threads to complete the kit as it's shown.
You may need access to a stitch instructions. While there is a clear stitch guide (what stitch is used on each part of the design), there are no actual instructions for the stitches themselves. The stitches include stem stitch, blanket stitch, long & short stitch, bullions, pistil stitch (elongated French knots), daisy stitch, satin stitch, straight stitch, and fly stitch.
Hey, guess what?! You can find instructions for all of those stitches right here on Needle 'n Thread!
So, that's the kit. I thought you should know it's now available – and that it's a perfect tonic for chasing away the gray on any winter day!
A Give-Away!
This give-away has ended. Thanks for participating! You can find the winner announced here.
Courtesy of Canevas Folies and The French Needle, today, to celebrate Christmas (which isn't over yet!) and to give you something to look forward as we trudge through January, I'm so excited to be giving away a Breath of Spring embroidery kit!
The kit includes the House of Embroidery threads, but does not include some regular DMC colors, which most of you can find easily locally.
If you'd like to participate in the give-away and have a chance to win the kit, please follow these guidelines:
1. Leave a comment below, on today's article on Needle 'n Thread. You can follow this link directly to the comment box. Replies via email or comments left on other articles on Needle 'n Thread are not eligible.
2. In your comment, please answer the following:
What are your embroidery project plans for 2015? Do you have any projects lined up yet?
3. Leave your comment before 5:00 am (Central Time – Kansas USA) Saturday, January 3rd, 2015, and I'll announce the randomly drawn winner that day. The winner will need to contact me with mailing information.
And that's it!
So leave your comment, and who knows? By mid-January, you could be stitching away, dreamily engaged in creating a delightful wildflower meadow with your own needle and thread, totally oblivious and impervious to whatever Mother Nature happens to be dishing out at the time!