It's a wintery, shivery day here in northeast Kansas. Rumor has it, there's snow coming. But right now, it's just dark, misty, bleak and cold. And on mornings like this, it's hard to believe that spring will ever come!
To help speed spring along, I'll be mailing out this Breath of Spring embroidery kit to one of you next week. But to whom?
Let's find out!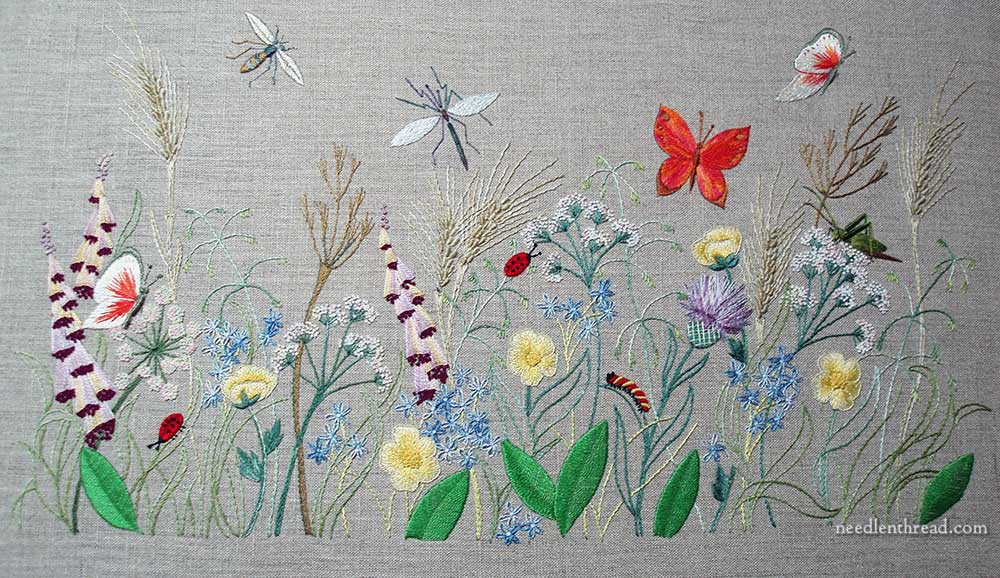 I reviewed the Breath of Spring kit from Canevas Folies and The French Needle last week. I am so excited to see this embroidery project finally available in kit form!
When it came out in Inspirations Magazine years ago, I fell in love with it. Admittedly, it's the only full project from Inspirations that I've actually completed. It's such a happy project, and I had so much fun stitching it!
And I think the winner of last week's give-away for the Breath of Spring kit and threads is Absolutely Certain to enjoy it as well.
For the give-away, I asked a question: What are your embroidery project plans for 2015? And I loved reading the answers as they came in – lots of exciting stitchy plans out there, and I hope they all come to pass.
The randomly-drawn winner of the Breath of Spring kit and thread pack is Robin West! Her comment:
Mary, You always lure me into a project so I'll wait and see what you have in store for us in 2015! I really want to do some monagrams because I LOVE calligraphy and letters of all kinds.
This give-away looks so beautiful, if I win, that will be my first project. I've admired your bugs and beetles! Happy 2015 Mary and everyone stitching everywhere!
Robin in New Mexico.
Well, Robin, you may indeed make it your first project of 2015! Drop me a line with your mailing address, and you'll be working on your own bugs and beetles in no time.
To all who participated, thanks! It was fun – and we'll do it again soon.
So, on to the weekend! I'm spending this first weekend of 2015 stitching up some samples, working up at least one tutorial, doing a lot of photo editing, a little writing, tweaking my publishing calendar for the next month, and anticipating snow with the enthusiasm of a kid hoping for a day off school.
Oh, yeah – and laundry … and house work … How could I forget? Darn it.
Hope you get a chance to spend some quality time with your needle and thread this weekend! See you Monday!