Off and on, I love to spend time doodling about with hand embroidery designs that eventually, I'd like to embroider!
Some of this fiddling is done in sketch books, some is done on the computer (usually after I've played about in a sketch book), and some is done on vellum over old embroidery patterns, photos of old pieces of embroidery (from ecclesiastical embroidery collections I've visited), or over real pieces of embroidery that I've collected.
But you know how it is. You understand this dilemma:
So many ideas, so little time.
Today's hand embroidery pattern is one example of an excerpt from an old folio of ecclesiastical embroidery designs. I cleaned up the excerpt, made some changes to it, and ended up with a stylized blooming something-or-other.
And because I have such a gosh-awful time naming things, I'm calling this one Bloomin' Branch: A Stylized Motif for Hand Embroidery.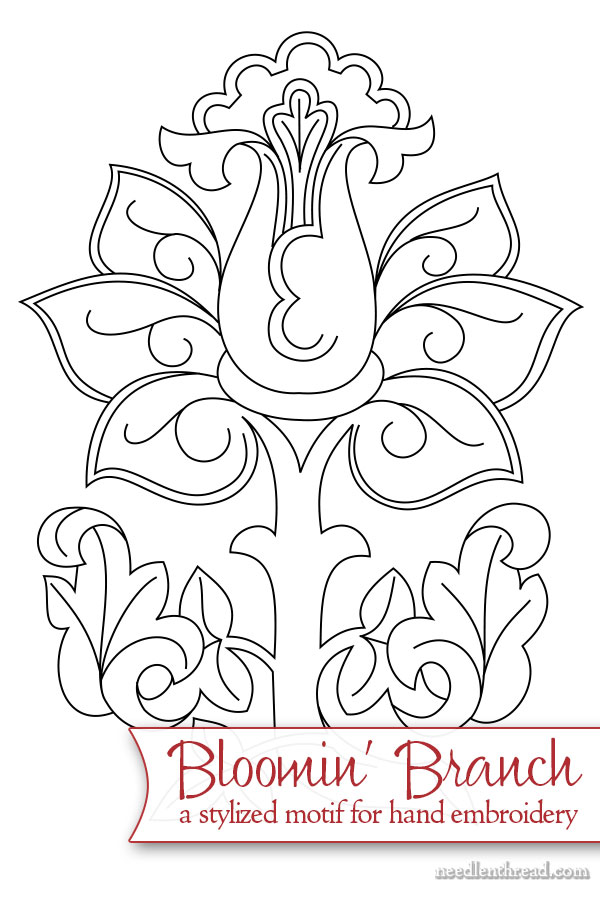 Now, this stylized embroidery design is super-suitable for all kinds of embroidery techniques, but in mind, one stands out more than others: goldwork (with silk). I think it would make a good study piece for goldwork and silk embroidery.
Still, crewel embroidery – it would work. Whitework – sure! Tambour embroidery – oh, yes. In fact, tambour embroidery would be my second choice.
But this type of design always screams goldwork to me. What do you think? How do you see it, embroidered?
This Bloomin' Branch goes goes well with this Rococo Bud embroidery design I posted last year. They're both excerpts. They're both stylized. They're both branchy things.
Bloomin' Branch Embroidery Pattern Printable
Below, you'll find the handy-dandy PDF printable for the Bloomin' Branch.
The design prints at 5″ high, if you print it at 100% with no scaling. I think you could print it smaller (4″ – 4.5″ high) for silk and goldwork, and if you're thinking about crewel work or something with heavy threads, you could print it larger (6″), but 5″ seemed about right to me, for practically any technique.
Bloomin' Branch: A Stylized Motif for Hand Embroidery (PDF)
If you're looking for more hand embroidery patterns, you can find many designs for hand embroidery available for free here on Needle 'n Thread. Browse through the Embroidery Patterns page, and maybe you'll find a design that will spark your interest!
Hope you enjoy this one!
Needle 'n Thread, Daily!
Did you know there are seven terrific reasons to sign up for the Needle 'n Thread daily newsletter? Check them out and sign up today!