I have The Worst Time Ever trying to name hand embroidery designs.
It's a great source of wonderment to me, how designers can repeatedly come up with apt, catchy, or elegant names for embroidery projects, kits, and designs! Or how thread manufacturers can come up with diverse color names that work!
When I try to come up with clever and appropriate names for designs or projects, words like thingy, stuff, and whatchamacallit come to mind.
Once upon a time, I thought about resorting to a numbering system. Project 1. Project 2. Project 214a. But that would be even worse, wouldn't it?
So I really put my thinking cap on for this design, and I named it Rococo Bud.
It's not necessarily a clever name. But it beats Acanthus-ish Thingamabob.
And if you say it ten times fast, it ends up twisting into nonsense words, like ropocobut, which makes it doubly entertaining.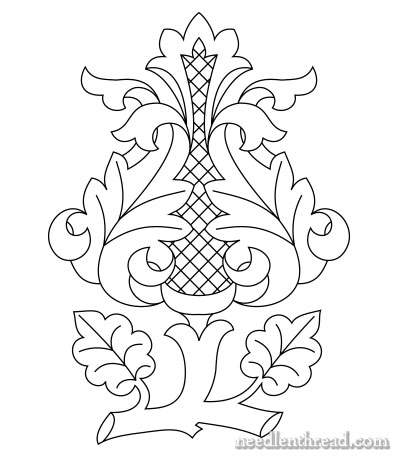 Rococo Bud. Rococo, because of the elaborate style. Bud, because it's kind of opened, kind of closed.
How can this particular design be used? Oh, innumerable ways! With a name like Rococo Bud, the first thing that comes to my mind is goldwork. This could be a rather elaborate exercise piece for goldwork!
But, other options – whitework! Definitely suitable for a whitework piece that incorporates different layers of texture.
Silk shading? Or needlepainting in cotton? Sure!
Blackwork? Why not? Outline the elements and fill with different patterns and gradients.
Crewel work? Absolutely! With a lattice filling, crewel work makes sense.
So, lots of options for Rococo Bud. It's another one of those designs that's been on my "To Do" list for a while. I thought I might as well pass it on to you, since I haven't gotten around to it yet! Maybe you will.
Rococo Bud Printable
Here's the PDF version that you can download and print from your computer. The design will print at 6″ high, if you choose the "no scaling" option in your print settings.
You can also enlarge or reduce it, to suit your purposes.
Free Hand Embroidery Pattern: Rococo Bud (PDF)
Hope you enjoy it!
If you're looking for something to stitch, you can find lots and lots of free hand embroidery patterns here on Needle 'n Thread. In addition to general patterns for hand embroidery, you'll find a few counted patterns, some monogram alphabets, a selection of church embroidery patterns, and a group of Hungarian embroidery patterns.
Looking for inspiration & information on hand embroidery?
There are all kinds of reasons to sign up for the Needle 'n Thread daily newsletter! Check them out and sign up today!