Have you ever pondered complex blackwork embroidery designs and thought, Gosh, I'd like to learn how to do that!
Well, here's your opportunity! Tanja Berlin is hosting an online blackwork class for beginners, and she's just opened up registration for it.
Better yet, she's offering one of you the chance to take her online blackwork class for free, along with the materials kit, stretcher bar frame, and tacks – everything you need to work the class project.
Normally, I don't run overlapping give-aways on Needle 'n Thread, but since Tanja's blackwork class registration is time-sensitive and I didn't want to miss the opportunity to offer someone the class and kit, I thought it would be ok to do this the same time I'm giving away a copy of Crewel Intentions.
You'll forgive me, won't you?
Say you will!
So, today's give-away is for the following:
1. The blackwork butterfly kit (which you can see above and below)
2. Stretcher bar frame and tacks (to fit the fabric size)
3. Online class tuition – which includes 3 PDF files with step-by-step instructions and participation in the online class forum
The total value of the give-away is $65!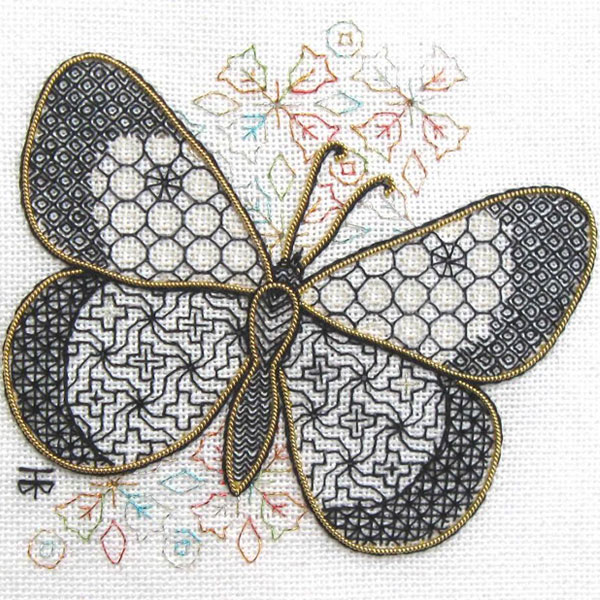 Tanja's class – which is perfect for absolute beginners and serves as an excellent introduction and preparation for more complex forms of blackwork – runs from March 6 through April 3 this year, and registration is open until February 23rd. You can find all the registration information for the beginner blackwork class here.
Give-Away Guidelines
If you'd like to enter today's give-away, please follow these guidelines:
This give-away is now closed. Thanks for participating!
1. Leave a comment below, with your name (no anonymous entries, please) or nickname. If you're unsure of where to go to leave a comment, just follow this link. Comments by email or left on any other article on Needle 'n Thread are ineligible.
2. In your comment, please answer the following:
What's your favorite type of embroidery?
3. Leave your comment by Friday, February 6, 5:00 am CST (Kansas, USA), and I'll announce the winner that day, which is the same day I'll be announcing the winner of Crewel Intentions. You can definitely enter both give-aways – it won't decrease your chances on either!
The give-away is open to anyone, anywhere, so if you're dying to learn blackwork, leave a comment! Heck, your chances are much better than winning the lottery, after all!
Good luck!