Tomorrow's St. Patrick's Day, a great reason to celebrate All Things Irish-ish!
To celebrate a day early, I thought I'd show you a wee bit of Irish Inspiration, in the form of a lovely piece of tambour embroidery worked by a reader.
I really love what she did with the this embroidery pattern!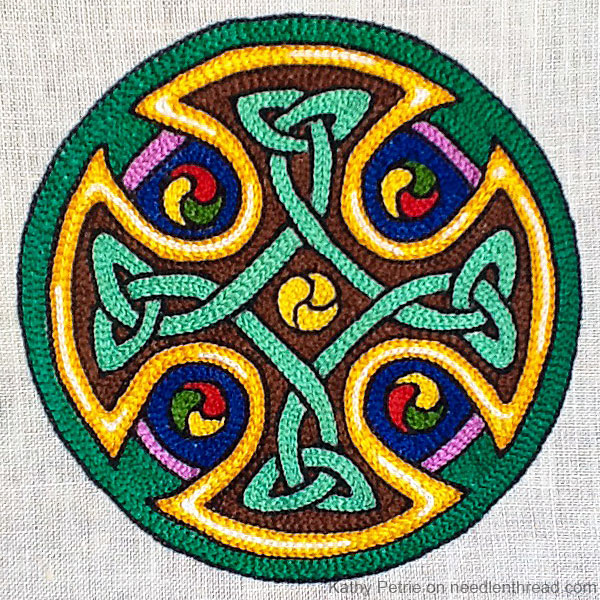 Using this Celtic Cross embroidery pattern, Kathy worked the design using a tambour hook and Anchor coton a broder. The outlines in black are worked with #12 perle cotton.
Kathy made a great choice for her first tambour embroidery project! The intertwining lines and the circular outside border and the shape of the cross are all particularly well-suited to tambour embroidery, because you can just keep going around the design. Until you get to the point of filling in the tighter spaces (and except for the little round knots), there's not a lot of starting and stopping – even through there are a few sharp turns.
I especially like the way she incorporated the white into the yellow-gold on the cross design. It's a very nice touch that keeps the embroidery from looking flat.
If you'd like to try your hand at tambour embroidery, you'll find further information, tutorials (including a video tutorial), book reviews, and projects all listed in the Tambour Embroidery Index here on Needle 'n Thread. And you'll find plenty of free embroidery patterns to practice on, here.
Another option that would work well for tambour embroidery – especially if you like monograms – is the Celtic Knotwork monogram alphabet here on Needle 'n Thread. The continuous intertwining lines of the letters would work up quickly with a tambour hook!
And if you're hunting about for St. Patrick's Day embroidery ideas in general, you might enjoy this article demonstrating very simple (and quick to work!) shamrocks in whitework on green linen. Just find a simple line drawing of a shamrock from online clipart or coloring book pages, and you're good to go!
Thus endeth the Morning Missive. Have a Magnificent Monday!