Today, a bit of tool talk! Are you familiar with half cone sticks and trumpet cones used in dimensional embroidery and needle lace making?
Today, we'll look at these curious little tools, which are also called "embroidery shoes," and later on, we'll explore how they're used. We'll also take a look at trumpet cones, which are used in a similar way to half cone sticks.
Here's my little set of half cone sticks. They're from the UK, from Coleshill Collection, but they're also available in other places, discussed below.
As you can see, the tools are wood. They're made up of handles with different shaped heads attached to the handles. Each head has two little holes in it.
One side of the head shape is rounded, while the other side is flat, cut off at a slight angle.
Trumpet cones are slightly different. They have a flat side, and they have a different shape altogether – they're shaped (hence the name) like the open center "trumpets" found on various flowers, like daffodils for example.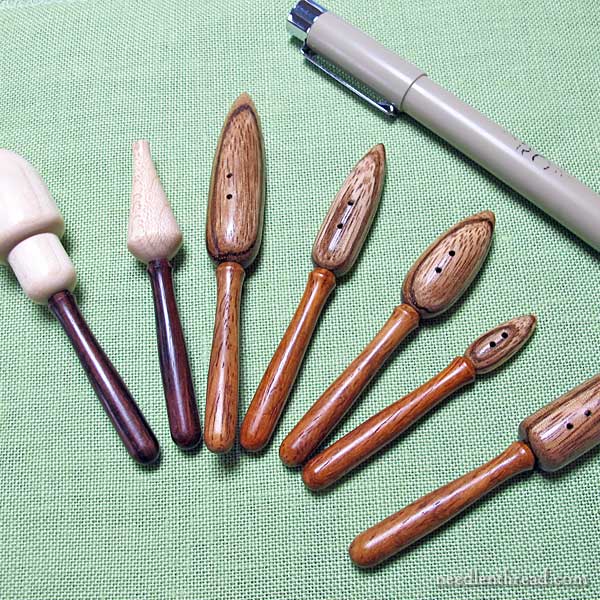 Here's the whole set with a pen thrown in, to give you an idea of scale.
You can see they're not large tools at all! They're little and lovely!
What are Half Cone Sticks Used For?
Half cone sticks (and trumpet cones) are used to aid the embroiderer in making consistent, open, shaped dimensional layers on embroidery or needle lace.
Think of a shoe tree or form that's used inside a real shoe, to keep its shape. The idea is somewhat the same.
With the embroidery shoe (or half cone stick) tacked to the surface of the fabric, you stitch over it, to create an open, shaped area of embroidery stitches – and then the shoe is removed and the open shape remains.
You'll find the concept demonstrated on Janet Granger's blog, where she used half cone sticks to embroider foxgloves on a project.
The trumpet cones are used slightly differently – the embroidery can be done on the whole cone (no fabric involved) and then removed and applied to the fabric.
Where Can You Find Half Cone Sticks?
As mentioned above, I bought mine through Coleshill Collection (which now has a shop on Etsy) a while ago. They're a UK based company, but the shipping was reasonable and quite fast.
You can find them in other places, too, mostly in the UK.
In Australia, you can find a small set (two) with a Hedebo ring gauge or stick from Alison Cole Embroidery.
In the US, Bruce Bassett makes half cone sticks. They look like this:
If you're interested in ordering from him, you can contact him via email at brucebassett(at)gmail.com. He sometimes has some on hand, already made, and they're $40 for a set of $5, with $8 for domestic shipping. If he doesn't have them on hand, it can take a couple weeks to make them, depending on other obligations and whatnot.
I think Bruce's half cone sticks are flat on one side, without a cut angle to the cone, from what I can tell from the photos. So the shape of the resulting open cone would be slightly different, as the opening on the angled-cut cones would trumpet upwards a little differently. The advantage is that the handle isn't sticking up away from the fabric, like it does on the angled-cut cones. But again, it depends on the shape you're looking for.
We'll Explore!
We'll explore using half cone sticks and trumpet cones a little later. I've been working up some tutorials, so that you can see how to use these little tools for adding dimension to your own embroidery projects.
What about you?
Have you used half cone sticks or trumpet cones for dimensional embroidery or needle lace? Any tips you want to share? Or projects you've used them on, that you'd like to share a link to? Or are you curious about the tools and have any questions? Feel free to join in the conversation below!