A couple weeks ago, my niece hit me up for some stitching help. She wanted to embroider something for a gift for a friend's wedding.
I thought "monogram" or "wedding sampler." She thought "symbol."
I was pretty pleased with the outcome of this little project, especially since it was the first time Anna had ever tried long & short stitch, shading, and working with silk and gold threads.
Today, I thought I'd share the finished embroidery project and the details on how it was worked.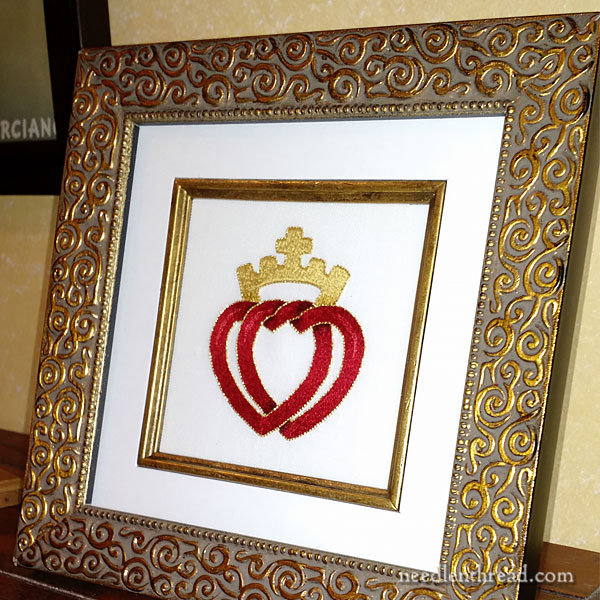 Squizzing about online, Anna found this symbol of two hearts intertwined and topped with a crown and cross. It's a nice simple design, perfect for translating into embroidery.
We printed it and we set about adjusting it for her purposes. Since it was her first project like this, I suggested keeping it pretty simple and keeping it small.
So we drew the design out so that it filled about a 3″ square, making any adjustments necessary to get clean, even lines.
Next, we picked out fabric. There was a bit of hesitation between working the design on a silk satin or working it on a white linen ground.
Because Anna's a bit of a newbie, I applied a little pressure in persuading her to use linen. It's much easier to stitch on, and, if she ran into any problems, she could pick out stitches without risking much damage to the fabric.
For thread, she wanted to try silk, so I suggested stranded silk – specifically Au Ver a Soie's Soie d'Alger.
Stranded silk like Soie d'Alger is an excellent silk thread, and it's perfect to use if you're a newcomer to silk. Up until this project, Anna was pretty familiar with DMC's stranded cotton, but she had never used silk.
Stranded silk is a lot like regular cotton floss in its structure and in the way it's used. One strand of Soie d'Alger is slightly thicker than one strand of DMC cotton. It's a bit softer than cotton, it has a much nicer sheen, and it has a bit more "spread" to it.
So Anna picked out four shades of red and three shades of gold Soie d'Alger.
She wasn't too confident with the tracing part, so I did it for her. You can end up with blurbles and blobbles in your lines if you go at the whole transfer thing with a hesitating hand, and I wanted her to start off on the right foot.
(Ok, ok, I'm sounding like the nice aunt here. In fact, I didn't want her wasting my fabric!)
Once the design was on the fabric, we sketched in areas where shading and highlights would help give some dimension to the design, to keep it from looking totally flat.
Then, it was just a matter of showing her how to work the long & short stitch and setting her to it.
Beginners often think that long and short stitch is an advanced technique that should only be tackled after obtaining a certain level of skill. In fact, it's a very, very forgiving stitch – it's easy to work and it's easy to easy to mask "mistakes" if your stitching goes awry.
With the long & short stitch finished, to outline the whole piece, we decided on gold check thread. It was fun showing her how to plunge the thread ends. It always cracks me up, to see the shocked look on people's faces when plunging goldwork threads to the back of fabric. It can be such a brutal task!
She whipped the whole thing up in a matter of days, and then I showed her how to block and damp stretch it, and then how to frame it. (We used a ready-made frame from a craft store.)
And thus ended (successfully, I think) a quick lesson in embroiderythat led to pretty decent results overall. Well done, Anna!
Maybe I should hire you – you certainly finish things up faster than I do…
Like what you see?
If you enjoyed this article and you're looking for more inspiration, information, and instruction on hand embroidery, why not sign up for my daily newsletter?
There are all kinds of reasons to have Needle 'n Thread delivered to your inbox – check them out and sign up today!