Remember that I mentioned in my needlework news snips last week that I've teamed up with Commonthread by DMC to write a few articles this year for the DIY section of their new website?
Well, I'm very happy to announce that the first article is up – and I think you'll like it!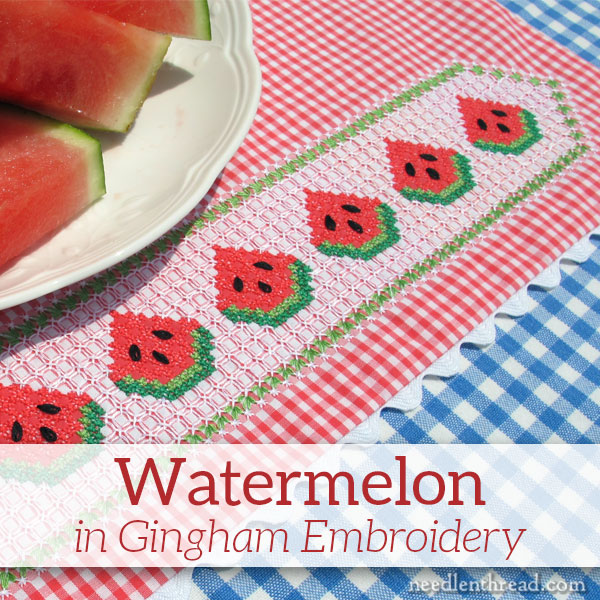 After all, it's summer (at least here in the Northern Hemisphere), and it's a perfect time for watermelon!
In my tutorial for watermelon in gingham embroidery, I cover all the supplies you'll need for a small table runner, along with all the stitch instructions and a chart for stitching up the design. It's a super-fun design to stitch!
You can apply the design to anything made of gingham, really. It doesn't have to be a table runner. Picnic napkins, a child's play dress, your kitchen curtains, a favorite apron with a vintage flair … anywhere you want to create a splash of color with gingham while paying tribute to an iconic summer fruit!
Incidentally, you can also work the watermelon design on any color of gingham, so if red or watermelon pink aren't exactly your Color Thing, no worries!
While I was working up samples of the pattern, I tried it on a natural gingham linen, a turquoise gingham, and a yellow gingham, along with regular red and watermelon pink. I settled on the watermelon pink gingham for the finished sample because the color was so cheery and summery. But any color of gingham will work.
Update 2017: The article on DMC was archived and is no longer easily accessible. I've posted the tutorial for Watermelon in Gingham Embroidery here on Needle 'n Thread, along with the pattern and links, so that you can easily access it and use it.
I hope you enjoy it!