I wil tell you this unashamedly:
I am a Messy Stitcher.
And sometimes, just between you and me and the dog, I am a Very Messy Stitcher.
Being a Messy Stitcher can lead to some Problems, especially if you rely on embroidery for your livelihood (which I do).
The biggest problem has to do with Productivity.
As a Messy Stitcher, it's very easy to lose track of things – from needles and threads to ideas and decisions.
I reconcile my Messy-Stitching-Habits with my Need-to-Be-Productive through one little object that I'm never without. And since it accidentally showed up in a photo, I thought I'd chat about it with you.
Here's a typical session at my work station in my workroom where I do Work. It's also where I do Fun, because my work is fun, and it also happens to be my main source of fun, because I always have to do it, so I might as well make it fun.
(Did you follow that at all? Me, neither.)
In any case, I make a jolly mess when I stitch. There's part of me that wishes I didn't. I would love to show you a pristinely organized workspace with projects underway and everything in its perfect little place.
Instead, I have threads strewn everywhere, needles lying about poking into this thing and that, tags from skeins of thread floating here and there among the mess, books stacked up in no particular order by this elbow and extra tools and trays and gadgets and gizmos stacked by that elbow.
In short, my work area is not – and never will be – the subject of a Perfect Pinterest Moment.
The realistic part of me recognizes that my work area tends towards entropy, so I might as well be honest about it. When I'm in the throes of a project, chugging along with satisfaction and really making progress, that's when my work area is at its worst.
(And the photo above doesn't represent The Worst, I assure you.)
But it's also when I'm the most productive, when it comes to actual stitching. And I suppose that's a good thing.
But there is a problem:
When things get messy, it's very easy to lose track of what you're doing and what you did. The embroiderer who creates a project for instruction – whether it be a simple tutorial or a full-fledged, all-out, major massive project – and has no idea what materials were used, what stitches were employed, what hurdles were overcome and how, finds herself in a pretty pickle, indeed.
To have to re-work something just to re-discover colors, thread choices, stitch placements, to find exact Teaching Moment Tips and so forth, in order to leverage the project for either sharing or income, is the greatest enemy of productivity. When you do this stuff for a living, it's pretty important not to have to do the same thing twice, if it can be avoided. Time, resources, time, time, time and resources are wasted when that happens.
Enter this little lovely thing, which is one of many, and my current little companion:
Fishy, isn't it?
This is my constant stitching (and everything else) companion. It's not always dressed up like this. But the insides are always the same: blank lined paper.
I always stitch – and in fact, I always work at my desk, leave my house, go anywhere, do anything – with a small notebook on hand.
My notebook is the Recipient of Ideas. The Developer of Plans. The Keeper of Facts. The Guardian of Order. The Assurance of Productivity.
I fill notebooks like a dentist fills teeth. Sometimes, it's quick and easy, jottings here and there in passing. Sometimes, it's complicated, more painful and time consuming.
But whatever it is, if I have to keep track of it, if I have to make plans for it or think about it later, if I have to remember what I did and how I did it (and be precise about it), it goes in my current companion notebook.
Why Should You Keep a Notebook?
And I'd even go so far as to say that you should keep a notebook, too.
Not necessarily a notebook that goes with you everywhere, because you might not have to be quite as obsessive about your stitching life. But one that fits in with your project stuff, that has a place in your favorite stitching spot, that's easily accessible.
Why? Two reasons:
1. It's good to have one place to keep track of your projects, supplies, and whatnot – what you've done on current projects, what thread you ran out of and need to replace, what you thought of a particular fabric and a reminder of where you got it, why this stitch worked or that one didn't, what book you used to find those particular instructions, and so forth.
2. When you stitch, there are times when you will experience great moments of clarity and creativity. Ideas will strike you – ideas that can develop into something significant later on. No matter how young you are, no matter how agile your memory, capturing those ideas when they happen is the best assurance that you'll develop them further, later.
What kind of notebook?
Don't break the bank on a notebook.
I buy small, flexible, easy-to-fit-anywhere notebooks, especially if I happen to come across them on sale. TJMaxx is a great place to find little notebooks like the one above. It came in a three pack, for less than a couple dollars.
But I also find them at office supply stores, occasionally at book stores (only when they're on sale or clearing out – otherwise, they're overpriced), and even at the grocery store now and then.
I never buy spiral bound notebooks, because the spiral gets in the way and it snags on things (problematic if you stuff it in a project bag).
I go for lined pages (lined or graph), because, even if I don't keep my worktable neat while I'm working, I like to keep my penmanship and my ideas in some semblance of order. I find this easier to do on lined or graph paper.
My companion notebooks are small. I slide them into a wallet or wristlet, the side pocket of a purse, into project bags, or even (in a pinch) a pocket. I don't want them to take up any real space or add any weight. While I use larger notebooks for other things, I keep my companion notebooks small.
I usually have more than one notebook going at once, but usually never more than two. Otherwise, it can become confusing. I always have one in my purse, so I don't end up somewhere without one, and the other wherever I'm working.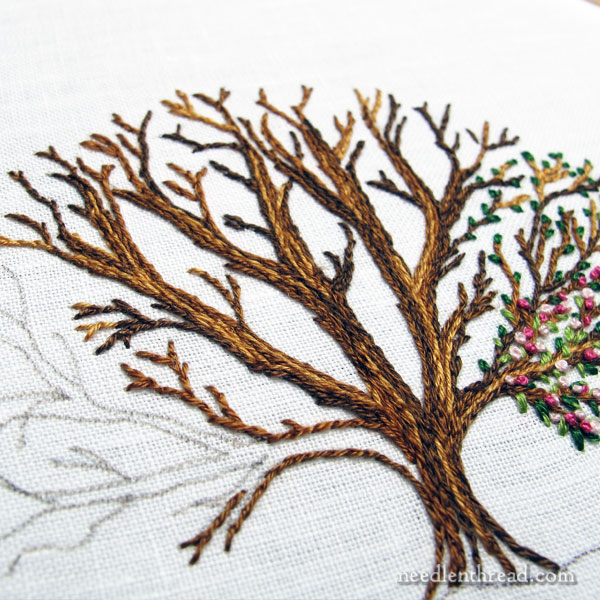 Ah – proof! Even though my worktable gets a bit messy, I do make some stitching progress now and then. Right now, I'm growing this tree and working on the variation of the shisha project I showed you earlier. A few tutorial hoops are awaiting attention, too. And Late Harvest flits in and out now and then.
What About You?
So, tell me. Do you keep a notebook? Or do you have a different way you keep track of projects and ideas while you stitch? I'd love to hear about it! Feel free to chime in below!