"Do as I say, not as I do."
When I was a professional teacher, I held this maxim to be one of the Worst Possible Ways to instruct anyone, especially children.
Children especially learn from example; they absorb what they see other people do (especially people they look up to), and they learn by what we do more than by what we say.
So I've always held "do as I say, not as I do" as a pretty shoddy way to instruct.
However…
(Don't you just love "buts"?)
We're all adults here, right? (Except for maybe Sarah, but I'm sure she'll understand!)
When working with an embroidery kit designed by someone else, do as I say:
Read through the instructions carefully first. And I really do mean read through All The Instructions carefully first. If you want to make changes to the instructions or the design or the layout or the colors or the method, go for it! But read what the designer originally intended, first. Then make your decisions.
Don't do as I did. To illustrate:
The last time we visited Late Harvest, an embroidery project designed by Hazel Blomkamp and featured in her book Crewel Intentions, I was plodding away on some of the leaves.
And I was loving it!
In that last article, I mentioned how I changed the direction of stitching on the particular leaves shown in the photo above and directly below.
The leaves in question came out ok, and I was happy enough with my decision to change my direction of stitching.
Incidentally, either direction would work fine on these types of leaves. For me, it was just a matter of stitching how I'm accustomed to stitch.
Now, I should have done it just as she said to do it, simply to experience embroidering the leaves in a way I wasn't accustomed to – it's good now and then to step out of the Comfort Zone and do things differently. It gives you a broader perspective and experience with your embroidery. And it helps you make decisions later on.
Still, the leaves came out ok. It was time to move on to the next bundle of leaves.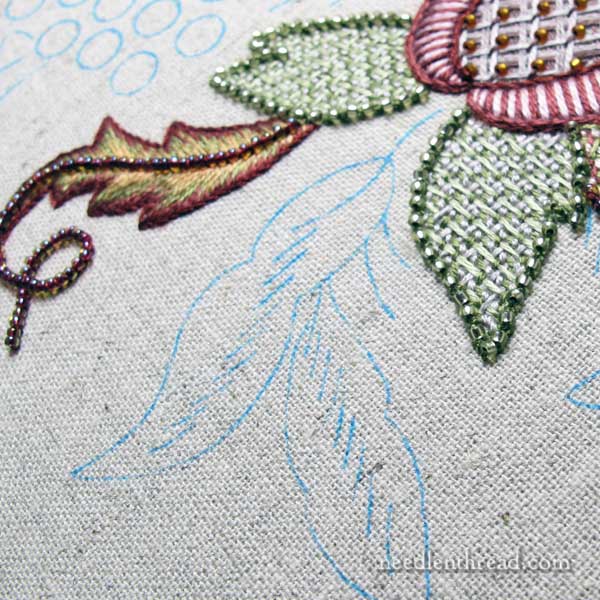 The next group of leaves to tackle include these narrow long leaves in the photo above.
There are actually three leaves in this group that are all stitched pretty much the same way.
I read the instructions.
Ok. Wait. I read the first line of the instructions.
And that's where I stopped.
The first sentence in the new group of instructions in this section said something along the lines of, These three leaves are stitched the same way.
Having just completed the previous group of leaves, my mind translated this into, These three leaves are stitched the same way as the leaves you just finished.
But there's a World of Difference in the real statement and in my interpretation.
And I would have realized this if I had read the next line of the instructions.
But I didn't read any further.
I said to myself, Oh, ok. Same method. Go!
And I went.
As I stitched, I was a little befuddled by the slashy lines down the middle of the design.
But did I stop to inquire?
No.
And going from outside-in, I found it difficult to create a smooth join in the center of the leaf.
But I figured that center spine would be covered by a line of beads, anyway, just like the previous leaves. So I didn't sweat it.
I finished the leaf and, excited to put the beads in place, I finally consulted the instructions.
There are, indeed, beads down the center of this leaf. But they follow the pattern dictated by those slashy lines drawn down the center of the leaf.
And in fact, the beads are supposed to go in first.
"Do as I say, not as I do."
Embroidery & Cooking
Kit instructions are a little bit like an unfamiliar recipe. When you're setting out to cook something, generally, it's a good idea to read through an unfamiliar recipe first, so you know where you're headed. If you want to make substitutions in the recipe, you normally do that after you've read the whole thing, so that you know what substitutes will work.
When you're working a kit, it's the same way. Read the instructions first, all the way, so you know where you're going.
If you want to make changes after you've read through the instructions, go for it. But at least read the instructions, so that you know what is going to work with the design and what isn't.
In this particular case, I can still stitch the slashy lines of beads across the top of this leaf, but it would have been much easier to put them in place right along the design lines, where they were called for and without having to pass through dense stitching. I also used up much more thread than I would have, had I read the instructions first.
"Do as I say, not as I do."
In this case, I've made the mistake for you. (It's my pleasure!)
Now, go forth and do it right!
Like what you see?
If you enjoyed this article and you're looking for more inspiration, information, and instruction on hand embroidery, why not sign up for my daily newsletter?
There are all kinds of reasons to have Needle 'n Thread delivered to your inbox – check them out and sign up today!