Hazel Blomkamp has done it again! If you fell in love with Crewel Twists, Hazel's first book published in 2012, you're going to love her new book, Crewel Intentions, too!
In Crewel Twists, Hazel introduced us to her unique and colorful approach to surface embroidery. Incorporating beads, a huge variety of stitches and filling techniques and various types of threads, her embroidery designs are Jacobean flavored with a decidedly signature look to them.
She carries this forward in Crewel Intentions by combining the same approaches found in Crewel Twists, with a few new twists!
Hazel's designs have a contemporary Jacobean flair. They're colorful and textured and they incorporate all kinds of stitches.
These are the types of embroidery projects you just can't get bored with while stitching, because there's so much fun stuff going on in them, some of which can be totally surprising. And yet, they come together in a beautiful, cohesive whole.
Here's the line up of the contents. The first part of the book covers tips, materials, tools, and stitch instructions.
Hazel's tips are good, matter-of-fact, full of common sense, and sometimes, downright humorous. I love, for example, her advice on super glue. Since I have a dad who uses superglue like the guy in My Big Fat Greek Wedding uses Windex, it rings true:
I don't like using a thimble but find that a hole develops in the tip of the finger that I use to push the needle through the fabric. Murphy's Law dictates that on every third stitch, the back of the needle will go straight into that hole and the pain will cause me to go straight through the roof. I place a blob of superglue on that spot, hold my finger in the air for a few minutes and let it dry. Once that blog is dry it will be rock hard and a needle will not penetrate it. It peels off after a few hours, I promise. It's only in cartoons that superglue victims have to be taken to the emergency room with glasses stuck to their foreheads.
Yep. I do it all the time. I also use it to close up those painful little winter-skin fissures that sometimes develop on the side of my finger where I hold my needle. Works like a charm.
After the tips and materials, you'll find the stitch gallery. The stitch gallery offers clear stitch diagrams for all the embroidery stitches employed in the projects that follow.
And here's the part that takes the stitch gallery from expected to unexpected. There's a fantastic selection on needle weaving.
But, you say, needle weaving shows up in all kinds of stitch dictionaries! How is this "unexpected"?
Well, I grant you – needle weaving does show up in most stitch dictionaries. But it's what Hazel's done to needle weaving that makes it different.
She offers innumerable weaving patterns to create, with needle and thread, a whole slew of different woven fillings that mimic fabric. There are striped fillings, checked fillings, twill fillings, several plaid fillings, and plenty of in-between patterns, too.
Once you see the project pictures, you'll see what I mean…
Check out those fillings! They're fantastic!
Don't they just make you tingle all the way down to your toes? Think of the possibilities for embroidery when you start mucking around with these types of patterned fillings!
And then, we get into the projects. The project section of the book is laid out one project at a time, beginning with a close up photo of the project and a cover page…
…followed by a thorough materials list (there are lots of materials involved in each project!)…
…followed by instructions that are broken down by section.
The design is portioned off into manageable sections. The completed section is shown highlighted in a photo, and then each element of that section is shown highlighted in a photo, and followed with step-by-step written instructions to complete that part, with references to the stitch dictionary in the front of the book.
Throughout the project instructions, you'll find handy little highlighted tips to help you through.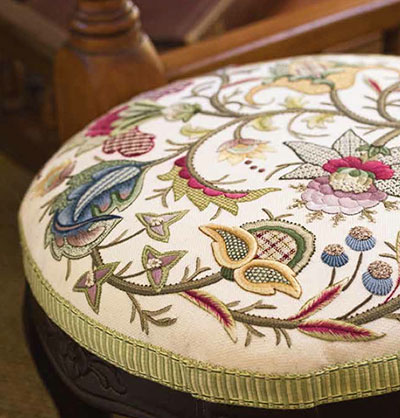 The project photos show various finished items – like serving trays, footstools, clock faces. You can easily adapt them to other finishing purposes, though.
I think this footstool is swoon worthy. I need it in my living room.
Blue and white? Lovely!
You can see clearly the use of the needle woven fillings in the petals on the blue and white project. And I love that whitework frame around the blue – so pretty!
A clock face! I love the shading in the latticed petals and the vibrant colors! Again, it doesn't have to be finished as a clock face, but this is a good example of something different to do with a piece of embroidery.
Each project in the book is progressively more appealing. This autumn beauty towards the end of the book is my favorite, I think.
It's full of texture and dimension, with beads, stumpwork leaves, and padded stitches. I love the treatment for the grapes!
In the back of the book, you'll find thread conversion charts…
…a resource guide for locating finishing goods (like the footstool and the clock), tools, materials, and so forth…
…and lastly, the pattern section, with line drawings for each project.
All in all, another terrific embroidery treat, this book! And definitely a must-have for your embroidery library.
Even if you don't work the projects, there's a ton of good information and some really interesting techniques that you can incorporate into your own embroidery.
Where To Find Crewel Intentions
You can find Crewel Intentions available through the following book affiliates:
In the US, Crewel Intentions is available through Amazon.
Worldwide with free shipping, you can find Crewel Intentions through Book Depository.