Monday, Monday! To give you something bright and cheery to look at, to start the week out right, here's some development on a little bit of stitching.
I'm working up this sample of an embroidered tree to demonstrate what can be done with the thread I'm using. I really didn't intend for it to be a major project. It's not – it's pretty simple, fairly relaxing stitchery, and not toooooooo time consuming, but more time consuming than I originally intended.
I am an absolute inveterate optimist when it comes to judging time and how long it will take to complete even the smallest project.
Oh, I can whip that up in a couple hours, the Time Optimist in me says…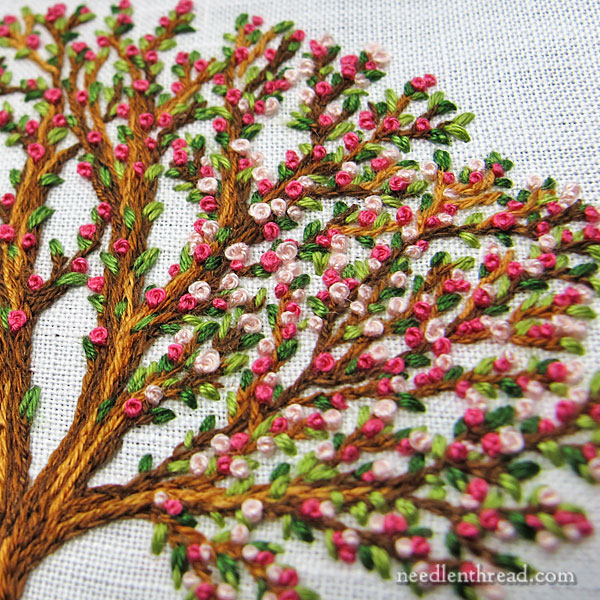 …after all, it's just a few sketchy little stitches.
And 6.5 hours later, I'm still whipping it up, and not near finished.
It is Ever Thus.
When I posted an update on my Needle 'n Thread Facebook page this weekend, some folks wanted to know the size of the tree and to see it in context.
I haven't taken a photo of the whole tree in context with anything else yet, but here's a photo of the whole tree when I left it last.
If you want to see it in context with a pair of embroidery scissors, you'll find a photo on this article featuring some tips on sizing French knots.
The tree is just a tad over 3″ high, so it isn't too big.
This little bit is the only progress I made on any stitching over the weekend. I put in four hours on it, and when I finally looked up at the clock and back down at the tree, I was really surprised that it hadn't finished blooming yet. Where does the time go? And why does it take me so much longer to do things than I think it should?
I'll tell you this: I had so much fun in those four hours! It was relaxing, a little methodical and mesmerizing, and it required zero thought. I was listening to an engrossing audio book, and I had no idea that four hours had passed.
That's what I call a good stitching session!