When I was a wee lass – some 35-ish years ago! – my mom made me the Best Birthday Cake Ever. It was a carousel cake, with carousel ponies all around the edges, topped off with a striped tent over head. I thought it was a magnificent thing! Just dreamy!
I've always had A Thing for the color and flash of the carousel pony. The carousel is my favorite ride, even now, at any fair or amusement park, especially to take little kids on, or just to watch them enjoying the ride. It's tame, but it's fun, and it's always great for smiles. And there's nothing better than visiting a city park that has a permanent carousel.
Carousels, after all, are happy things!
(Unless, of course, Stephen King gets ahold of one and turns it into something creepy…)
So, when Sarah, a twelve-year-old reader here on Needle 'n Thread, sent in photos of her recent fair entry – an embroidered carousel pony – I thought sharing it with you would be a cheery way start to the week!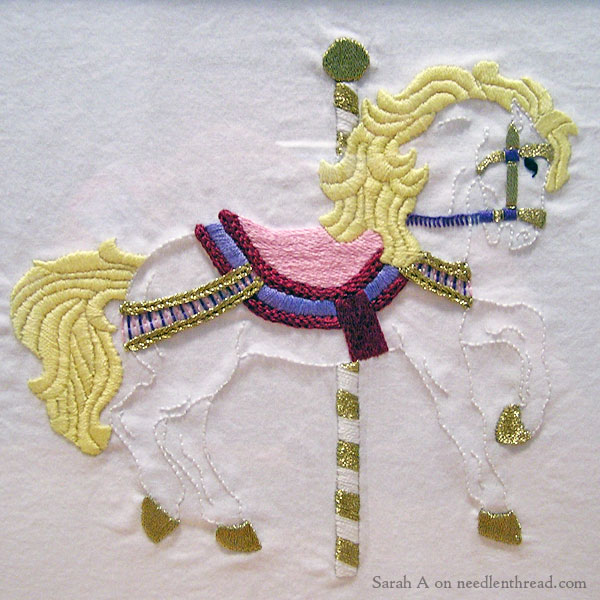 The embroidery on Sarah's pony is worked with DMC cotton floss and DMC gold metallic floss.
She used a good variety of stitches in the piece: padded satin stitch, satin stitch, heavy chain stitch, Hungarian braided chain stitch, backstitch, stem stitch, buttonhole stitch, and straight stitch.
The mane and tail are worked entirely in padded satin stitch – a terrific undertaking!
The bridle and some of the harness accents and the pole are all fitted out with metallic floss, for a little sparkle. Sarah said she found the gold metallic floss easier when working with one strand (the details on the pole and the bridle), instead of three strands at a time (the heavier chain stitching on the harness). This was her first time working with metallic floss, so I think she's well initiated now.
The saddle is worked in stem stitch filling and trimmed out with Hungarian braid stitch and satin stitch.
The pony took Sarah two months to complete, at which point she pressed it and framed it.
Then she took it off to the county fair, where it won Best in Class, and where it was chosen to go on to the State Fair.
I think she did a great job! It looks like it was a fun project and a good learning experience all around, and of course, it's super encouraging to see young people stitching and loving it!
Like I said, a great way to start the week – have a Magnificent Monday!
Would you like to be part of the Reader's Embroidery series on Needle 'n Thread? If you'd like to contribute for future articles featuring your own embroidery, write to me at mary(at)needlenthread(dot)com and tell me about your project. You can attach photos of your work right to your email. If you have a blog or website, a Facebook page or Pinterest board that you'd like to share with everyone, feel free to include that information as well.