Finally, the last of the Tulip Monogram alphabet for hand embroidery – the Y and the Z!
Admittedly, they aren't the most frequently used initials in the alphabet, but we wouldn't want to leave them out, would we?
You can now find all the letters in the Tulip Alphabet available here – just scroll down the page for the Tulips, which are at the end.
There's a PDF printable available for each group of letters, making it easier for you to download and save the letters you want.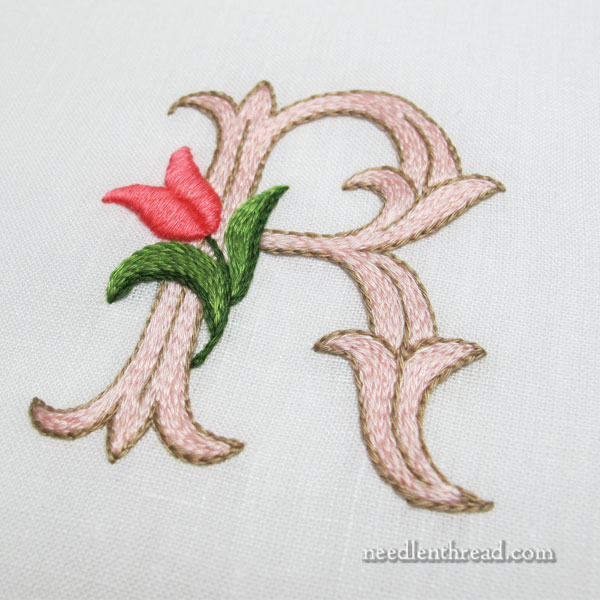 If you're looking for stitching suggestions for any of the letters in this alphabet, you'll find examples and suggestions with letters A – D and E – H. Read the comments, too! There are good suggestions in the comments area on both of those articles.
Tulip Monograms Y & Z – Printable
Here's the handy dandy PDF printable for letters Y and Z. The letters will print at 2.5″ high, if you choose the "no scaling" or 100% option in your printer settings.
Tulip Monograms Y and Z (PDF)
I hope you can find some good use for these monograms! Remember, they work well for other crafts, too, besides embroidery – card making, paper crafts, painting, and so forth. One reader uses the monograms here on Needle 'n Thread for glass etching, to give as gifts, which I think is a neat idea!
Favorite Monograms – PDF Collection
You'll find this complete alphabet – along with 15 other decorative alphabets – all in one place in Favorite Monograms, a downloadable PDF collection of 16 monogram alphabets perfect for hand embroidery and other crafts.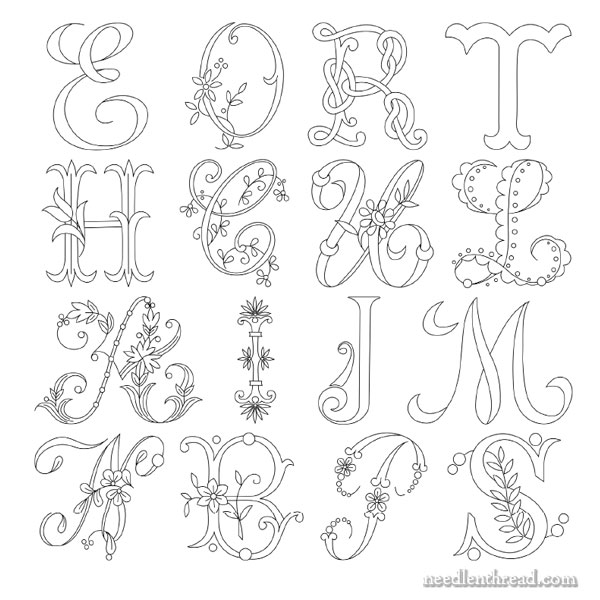 In the photo above, you can see samples of each alphabet available in Favorite Monograms.
Each letter in each alphabet in Favorite Monograms has been carefully traced into a clean line drawing that can be easily enlarged or reduced on a home printer or a photocopier.
The 16-alphabet collection is delivered as via a download link to your inbox shortly after purchase, so that you can begin creating right away! Priced at less than $1.00 per complete alphabet, monogram lovers can't go wrong with this collection!
Favorite Monograms is available in my shop, here.