Last week, I shared the printable for letters A – D in this tulip monogram alphabet with you.
If you missed that article and you want to collect the alphabet printables for this set, or you want to see one of the letters stitched, feel free to jump over to the A – D article. You'll find the printable at the bottom of the page.
Here are the next four letters, E through H.
You can also find some stitching suggestions on that first article.
Since then, I've been fiddling with this alphabet, working up a sample with coton a broder.
I'm using a technique called trailing, which is a satin stitch technique worked over one strand, or a group of strands, of the thread. It's also sometimes referred to as "overcast" stitching, though overcast stitching doesn't always involve working over thread.
With trailing, the thread underneath the satin stitch provides padding and lifts the satin stitch. It takes a little fiddling, when you're working the three tips at the end of each stroke on the letter, but I think it's a good technique for these letters, overall.
I'm working the outline of the letter in trailing, and I'll share that technique with you – and show you the letter – soon. I hope to have it finished by the end of the week.
(Which probably means it won't be finished for two weeks or so! Aaaack!)
With the raised outline around the letter, what technique should I use for the tulip?
One reader emailed and asked if I thought the tulip would work in stumpwork, maybe with the leaves and the petals detached from the fabric. So there's a thought!
I can see the leaves being detached rather easily. To detach the petals, I'm thinking that, to keep the complete sense of a tulip, you'd have to stitch petals to the fabric underneath the detached petals, which would make the flower truly dimensional. Otherwise, you'd end up with two petals sticking up from the fabric and nothing underneath them, which might look a bit odd.
I probably won't go the stumpwork route with the sample I'm working on because I'm working with more traditional monogramming techniques for a particular reason, but I think it would be a fun idea for those of you who like dimensional embroidery and want to tackle the logistics of the 3-D tulip.
If you have any stitching ideas for these monogram designs, why not share them below? The simplicity of the letters opens up a lot of possibilities, I think! I'd love to hear your ideas!
Monogram Printable
In the meantime, here's the PDF printable for the letters E through H for the tulip alphabet. If you choose "no scaling" or a similar option on your printer menu, they should print at 2.5″ high.
Tulip Monograms for Hand Embroidery: E-H (PDF)
A
Favorite Monograms – PDF Collection
You'll find this complete alphabet – along with 15 other decorative alphabets – all in one place in Favorite Monograms, a downloadable PDF collection of 16 monogram alphabets perfect for hand embroidery and other crafts.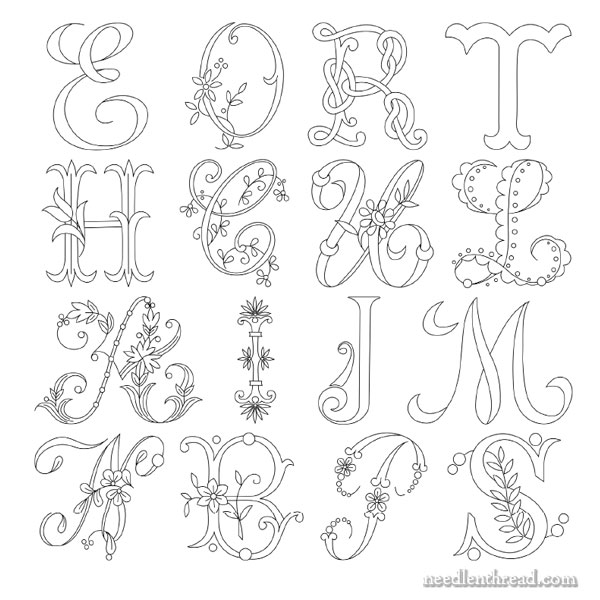 In the photo above, you can see samples of each alphabet available in Favorite Monograms.
Each letter in each alphabet in Favorite Monograms has been carefully traced into a clean line drawing that can be easily enlarged or reduced on a home printer or a photocopier.
The 16-alphabet collection is delivered as via a download link to your inbox shortly after purchase, so that you can begin creating right away! Priced at less than $1.00 per complete alphabet, monogram lovers can't go wrong with this collection!
Favorite Monograms is available in my shop, here.